48% RDS(on) improvement, increased power up to 300 W
Nexperia introduced a portfolio of low RDS(on) 40 V AEC-Q101 MOSFETs targeting space-constricted, increased-power modules in demanding powertrain applications. Housed in the miniature, LFPAK33 package which has a footprint of only 10.9 mm2 and a pitch of just 0.65 mm, devices use Nexperia's Trench 9 technology. This results in a reduction in RDS(on) of 48% when compared to previous technology devices, covering a range of applications from 30 W up to 300 W. BUK7M3R3-40H and BUK9M3R3-40H (Standard Level and Logic Level) devices feature an RDS(on) of just 3.3 mΩ.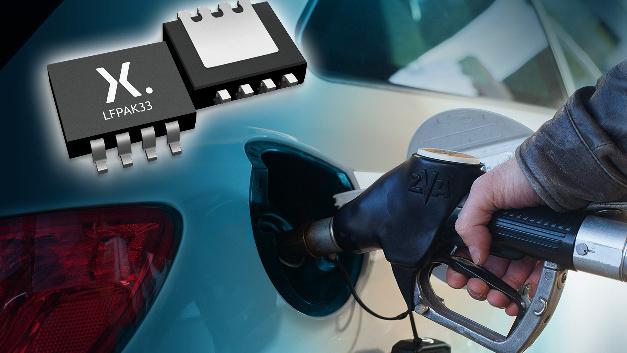 Improved RDS(on) and current capability allows the LFPAK33 package to replace larger power styles at a lower cost with comparable product performance, where traditionally DPAK-packaged devices which are 80% larger than LFPAK33 devices have been used. Rugged, Trench 9 Superjunction technology also delivers a higher Avalanche capability and greater Safe Operating Area (SOA) for improved performance under fault conditions.
Comments Richard Ogden, Nexperia's product manager: "Automotive design engineers continue to innovate - especially in applications such as water, fuel and oil pumps, and engine filters - focusing on reducing module size but with increasing power requirements. Our Trench 9 automotive LFPAK33 MOSFETs are a good fit for these thermally-demanding powertrain systems, since the unique LFPAK technology absorbs thermal stresses. Other automotive applications include parking brakes, airbag systems, LED Lighting, seat control & heating, window lift and driver infotainment systems."
Nexperia's LFPAK33 40 V MOSFET family represents the industry's largest portfolio of devices in a 3 × 3 mm footprint, with an additional 16 Standard Level and Logic Level devices. Devices are qualified to AEC-Q101 exceeding the requirements of this standard by more than two times.