Asahi Kasei Microdevices Corporation (AKM) has developed the AK8464, 3-channel linear AFE IC for CCDs and CIS sensors with integrated related functions. It is suitable for A4 MFPs, copiers, and AOI applications.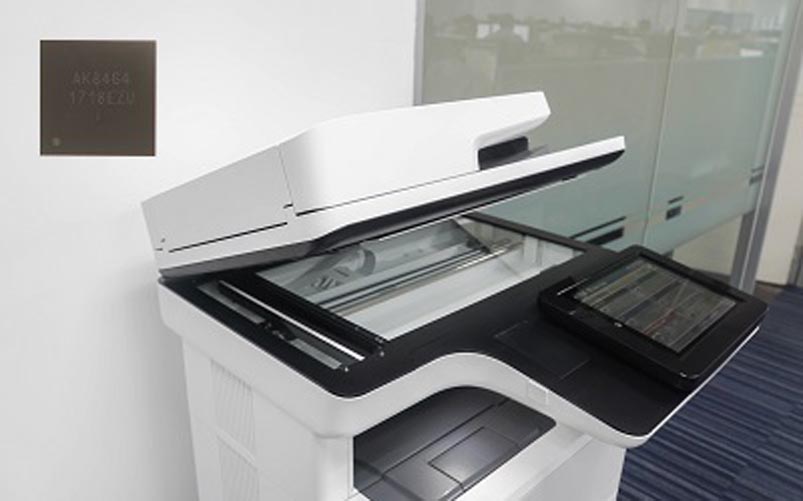 The AK8464 includes digital-PGA, digital-offset-correction, timing generator (TG), X-tal oscillator, synthesizer, SSCG, and LVDS interface. The TG can generate a clock for the sensor drive and it also provides a control clock for AKM's LED driver, the AK7864A. The AK8464 operates up to 35 MSPS/ch, making it ideal for all 3-channel scanner systems.
Mass production of the AK8464 is scheduled for December 2019.
Features
Supports RO 3-channel CCD sensor and 3-channel CIS module
The AK8464 supports a high-speed CCD and CMOS-CIS sensor up to 35 MSPS/ch. The sampling method of a sensor is CDS/Line-clamp for CCD and DC direct connection for CIS sensor.
Integrated functions necessary for sensor signal processing
The AK8464 has a black correction function and an AGC function that automatically adjust an offset and gain of CCD sensors. It has a built-in TG function that generates a complicated clock pattern for driving the sensor.
Additionally, the TG can generate a control clock of the AK7864A that is the driver of a LED light source. Furthermore, the AK8464 also has a built-in frequency synthesizer that allows you to adjust the sampling frequency freely.
Built-in spread spectrum clock generator (SSCG) circuit
A SSCG function is built in to reduce electromagnetic interference (EMI), which is a common problem in digital signal processing systems. The modulation frequency and modulation depth can be set programmable.
Applications
A4 copiers
Line cameras
Automated optical inspection (AOI)
ATMs
3-channel CCD scanners
3-channel CIS modules