Gareth Halfacree
Hackster
Design includes dedicated audio processing capabilities and a daughterboard with dual beamforming microphones with echo cancellation.
Espressif has announced the launch of a new development board for its popular ESP32 wireless system-on-chip (SoC), this time designed for always-on voice-activated assistant system projects powered by Amazon's Alexa and AWS IoT Core platforms: the Vaquita.
Brought to our attention by CNX Software, the Espressif ESP32-Vaquita-DSPG is based on the last-generation ESP32, rather than the newer ESP32-S2 which entered mass-production earlier this year. At its heart is an ESP32-WROVER-E module powered by the ESP32-D0WD-V3 system-on-chip, which includes 8MB of pseudo-static RAM (PSRAM) and 8MB of flash along with a dual-core ESP32 processor with Wi-Fi and Bluetooth connectivity.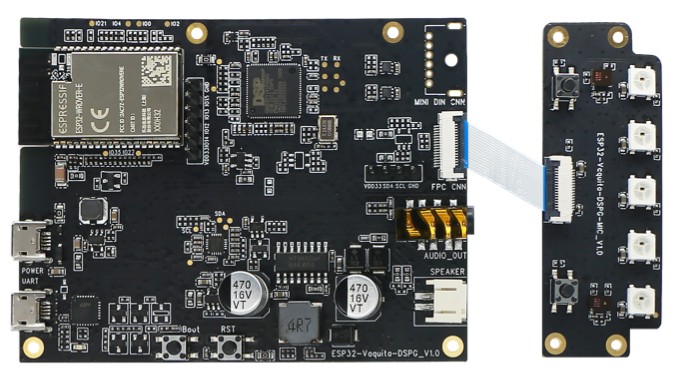 Espressif's new Vaquita aims to simplify development of voice recognition systems
The design also incorporates a range of audio features key to its target implementation: a DSPG DBMD5P digital signal processor (DSP) with far-field microphone processing and voice recognition capabilities, an 8 W power amplifier, and an ES8311 I2S audio codec. The microphones, meanwhile, are broken out onto a separate board connected via FPC and featuring a dual-microphone beamforming array with echo cancellation, five user-addressable RGB LEDs, and two function buttons.
On the software side, the Vaquita is designed to be used with the Espressif Voice Assistant software development kit (SDK), which ties into the Amazon Alexa voice-activated assistant and Amazon Web Services IoT Core platforms. For those looking outside Amazon's ecosystem, the SDK also supports Google Assistant along with Google-owned DialogFlow natural language processing.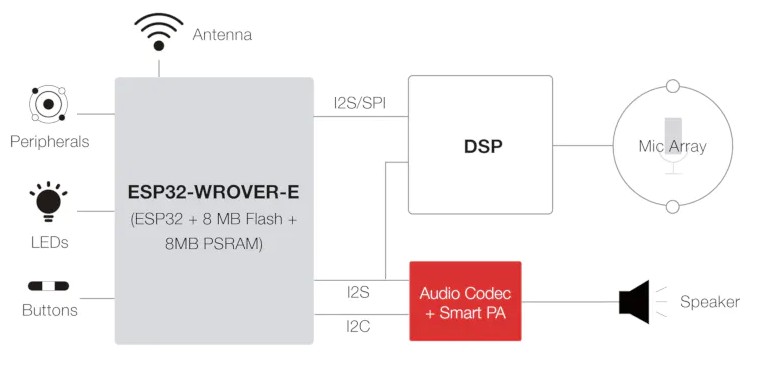 The Vaquita designincludes dedicated audio processing and a dual-mic beamforming array
The ESP32-Vaquita-DSPG is being sold for $45 per unit, with more information available on the official product page. Note that while microphones are included, speakers must be supplied by the user.