Diodes Incorporated announced the availability of the versatile dimming input controller for offline LED lamps. AL8116 works with three types of dimmer signal formats:
0 to 10 V dimming voltage
PWM (Pulse Width Modulation) signal
Simple potentiometer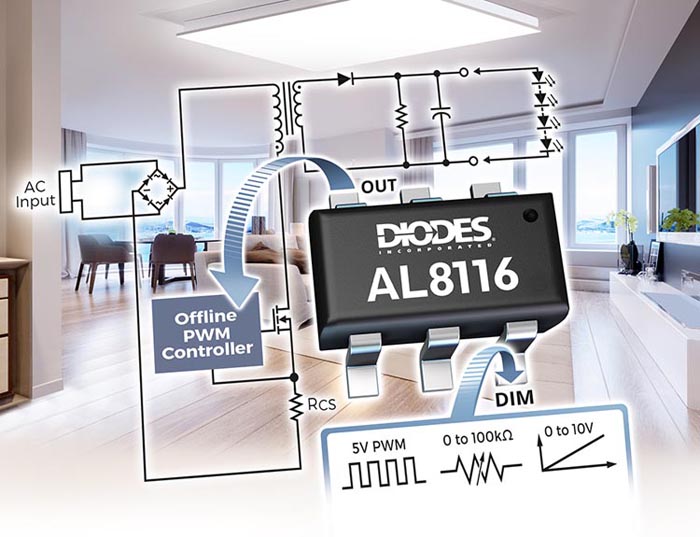 It converts these to a PWM output signal which can easily be used to provide an isolated dimming control via an opto-coupler to the primary side LED driver.

AL8116 Typical Application Circuit.
The AL8116 has a wide supply voltage range from 10 V to 56 V. The AL8116 Output Duty Cycle accuracy is typically ±2.5% and its minimum Output Duty cycle can be set through a CLAMP pin resistor.
The AL8116 has an internal overtemperature protection (OTP) and it is available in the SOT26 package.
Features
Wide VCC Operating Range 10 V to 56 V
Low Operation Current (Typical 600 μA)
Precision Dimmer Type with
Voltage Potential: 0/1 V to 10 V
PWM Dimming: 0.2 kHz to 10 kHz
Potentiometer: 0 to 100 kΩ
Adjustable Bias Current Source of DIM Pin
Accurate Output Duty Cycle Tolerance ±2.5%
Adjustable Minimum Output PWM Duty Clamping: 8%, 6%, 4%, and 2%
Built-In Over Temperature Protection for Chip
Totally Lead-Free & Fully RoHS Compliant