New devices support low-voltage peripheral circuits and facilitate reductions in component count
Toshiba Electronics Europe has released the industry's first high-speed communications photocouplers that can operate with a supply voltage as low as 2.2 V. The devices are suited to a wide range of applications including programmable logic controllers (PLCs), measurement / control equipment and any other equipment requiring a high-speed digital interface.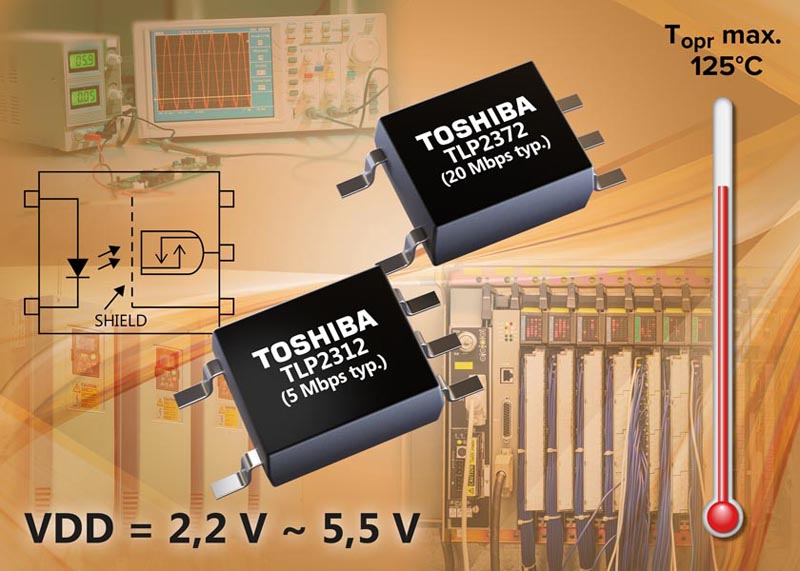 The two devices have typical data transfer rates of 5 Mbps (TLP2312) and 20 Mbps (TLP2372) and are specifically designed to operate with low voltage rails, down to 2.2 V. This allows them to work with the lower voltages used by many peripheral circuits, including those found in 2.5 V LVCMOS, as well as accommodating voltages as high as 5.5 V. This approach eliminates the need for a separate power supply rail to drive the photocouplers, thereby reducing the component count and saving space.
With a low threshold input current of 1.6 mA (max.), and low supply current of 0.5 mA (max.) across their –40 °C to +125 °C operating temperature range, the new photocouplers can be directly driven by microcontrollers, reducing power consumption. Both devices offer an isolation voltage of 3.75 kVrms for safety isolation.
The new photocouplers are housed in 5-pin SO6 package with a maximum height of 2.3 mm, offering a low profile for height-constrained applications and bringing greater freedom for component layout on printed circuit boards.
Shipments of both new photocoupler devices start today.