Diodes Incorporated announced a high efficiency, Stereo 25 W / Mono 50 W Class D digital audio amplifier PAM8823 with I2S input to drive stereo bridge-tied speakers. The PAM8823 is capable of driving Stereo 25 W (BTL) each to a pair of 8 Ω load speaker or Mono 50 W (PBTL) to a 4 Ω load speaker operating at 24 V supply without external heat-sink or fan requirement at playing music.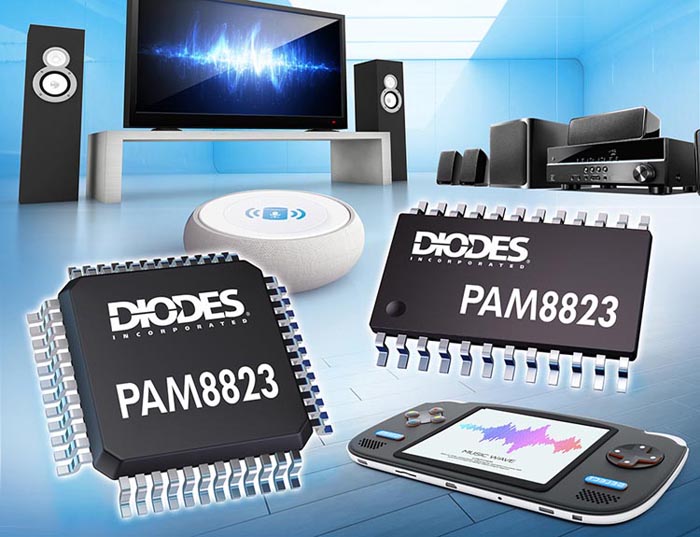 With embedded Audio DSP to support advanced features as volume control, 30 EQ bands, audio mixing, 3D surround sound and Dynamic Range Control (DRC), the PAM8823 is capable to provide a high-quality audio output with flexible digital audio processing capability. These features are fully programmable via a simple I2C control interface, with robust protection circuits to protect PAM8823 from damage by accidental erroneous operating condition. These protection features include Short-Circuit (SCP), Over-Temperature (OTP), Over-Voltage (OVP) & Under-Voltage-Lockout (UVLO) protections.
The PAM8823 is also pop-free designed during instantaneous power on/off or mute/shut down switching by anti-pop circuit built-in. The PAM8823 is a slave-only device receiving all clocks from external sources or internal PLL built-in. It is capable to support sampling rate from 8 kHz to 192 kHz. With oversampling technology combined with an advanced noise shaper design, the PAM8823 provides a flat noise floor and excellent dynamic range from 20 Hz to 20 kHz.
The PAM8823 is packaged in 48-pin, L-QFP7070-48EP (Type A1) or TSSOP-24EP (Type A1).