Murata launched a compact, cost-effective UHF RFID reader/writer module that the manufacturer claims to be 80% smaller in volume than competing solutions on the market. Measuring just 23×13×2.8mm, the reader/writer module can easily be incorporated into the next generation of mobile devices and portable RFID readers.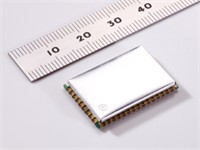 The unit operates in the 860-960MHz frequency range with an output level of +17dBm. The module features UART, SPI and I2C interfaces, it operates from a 3.6V supply and draws 800mA maximum.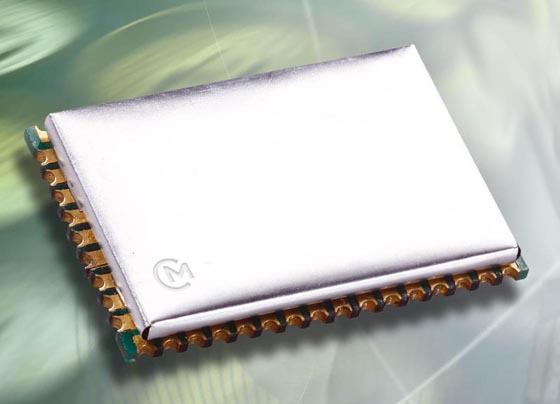 «This drastic size reduction is the first step to expand UHF RFID services beyond logistics, enabling new consumer services based on mobile phones that would integrate UHF RFID» commented Alexander Schmoldt, in charge of business development for Europe at Murata. The company hopes to be able to shrink this module to 13×13mm by the end of 2010.
Murata also reduced the size of its close-coupling Magicstrap UHF RFID solution that requires no external antenna and allows manufacturers to effectively reduce the size of a close-coupled UHF RFID tag to 3.2×1.6mm.
Magicstrap is Murata's multilayer ceramic RFID module, it includes the IC alongside antenna matching circuitry sufficiently wideband for worldwide UHF use. It can be used with an external antenna such as a metallic antenna pattern on a tag inlay, or using the ground plane of a PCB or the foil layer of a pharmaceutical blister pack as an antenna, and now, without any booster antenna at all in close-coupled applications.
Magicstrap conforms to EPC Global C1G2. A simple loop antenna needs to be connected to the read/write-device in order to use this function. This interoperability by compliance to a global standard distinguishes it from solutions operating in other frequency bands like HF or LF.
Read ranges for Magicstrap in close coupling can exceed 10mm when mounted on non-metallic surfaces and reach more than 5mm on metallic surfaces, depending on the output power of the reader device.