»
News
»
Microcontrollers
Achieve 20-25 years of battery lifetime, and the high performance of the 32-bit ARM Cortex-M3 with Energy Micro's new EFM32 microcontroller
Energy Micro is proud to introduce the EFM32 microcontroller family, which has an energy consumption that is many times lower than any other microcontroller family today, whether you benchmark with leading 8, 16 or 32 bit microcontrollers. With the EFM32 you can easily obtain battery lifetime in the 20-25 years range while at the same providing the high performance of the 32-bit ARM Cortex-M3.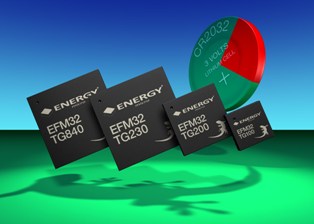 Features:
32-bit ARM Cortex-M3 running up to 32 MHz

1.25 DMIPS/MHz
Superior Math Capability

Single 1.8 to 3.8 volt power supply
–40° to 85°C operation range
Up to 32 KB Flash and 4 KB RAM memory
Up to 56 GPIO with 20 mA drive strength
16 External Interrupts
Direct memory access Controller (DMA)
Peripheral Reflex System for autonomous operation
Hardware AES with 128/256-bit encryption/decryption
Integrated high and low frequency oscillators
USARTs with UART and SPI modes up 16 Mbit/s
Low Energy UART with 100 nA receive mode
16-bit Timer/Counters with Compare/Capture
Low Energy TIMER with optional pulse outputs
Flexible 24-bit Real Time Counter
Pulse Counter
Configurable LCD Controller driving up to 4×24 segments
12-bit ADC, 1 Msamples/s, 8 channels
12-bit DAC, 500 ksamples/s, 2 channels
Analog Comparators with 8 input mux and capacitive sensing capability
On-chip Power-on Reset and Brown-out Detector
EFM32TG Lineup
Part number

Family

Core Variant

Freq.

Flash/ROM

Package

EFM32TG200F32

EFM32TG

ARM Cortex-M3

32MHz

32768

QFN 32

EFM32TG200F16

32MHz

16384

QFN 32

EFM32TG200F8

32MHz

8192

QFN 32

EFM32TG840F32

32MHz

32768

QFN 64

EFM32TG840F16

32MHz

16384

QFN 64
You may have to

register

before you can post comments and get full access to forum.
News on theme:
RadioLocman on the Social Web: