STMicroelectronics has extended its motion-sensor portfolio with a 3-axis digital-output accelerometer that combines a drastically reduced power consumption – 90% lower than available solutions on the market - with miniature footprint and enhanced functionality.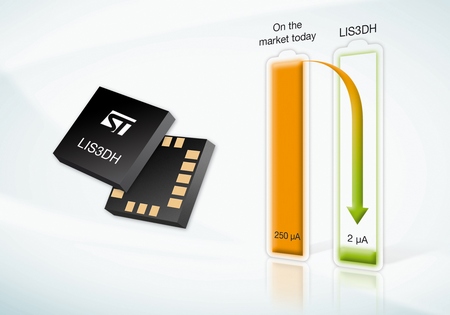 With operating current consumption as low as 2 microamps, the 3x3x1 mm accelerometer is a perfect fit for motion-sensing features and applications in space- and power-constrained consumer devices, such as mobile phones, remotes and game controllers. The sensor provides extremely accurate output across full-scale ranges of ±2g/±4g/±8g/±16g, boasting excellent stability over time and temperature.
The LIS3DH accelerometer contains a temperature sensor and three analog-to-digital converter channels for easy integration with companion chips, such as gyroscopes. It embeds a host of enhanced features, including click and double-click recognition, 4D/6D orientation detection, and the power-saving sleep-to-wake-up mode. In this mode, the device keeps the read chain active and wakes up when an event occurs, automatically increasing the output data rate.
Other important features include a programmable FIFO (first-in first-out) memory block and two programmable interrupt signals that enable immediate notification of motion detection, click/double-click events, and other conditions.
Features
Ultra-low-power consumption up to 2 µA
Embedded 96-level FIFO of 16-bit data output
Embedded temperature sensor
6D/4D orientation detection
±2g/±4g/±8g/±16g dynamically selectable full-scale
Wide supply voltage: 1.7 to 3.6 V
I2C/SPI digital output interface (16-bit data output)
2 independent programmable interrupt generators
Automatic programmable sleep-to-wakeup and return-to-sleep functions
Free-fall and motion detection
Embedded ADC converter
Embedded self-test
The device is pin-to-pin and software-compatible with all ST accelerometers in the LIS331 family, so customers can easily 'hot swap' and protect their investment in application development.