Microchip Technology Inc., a leading provider of microcontroller, analog and Flash-IP solutions, today announced the 8-bit PIC18F87J72 microcontroller (MCU) family for single-phase, multi-function smart-metering and energy-monitoring applications. Featuring a dual-channel, high-performance 16-/24-bit Analog Front End (AFE), the new MCUs provide an accurate, reliable, easy-to-use and cost-effective solution for developing meters that exceed International Electrotechnical Commission (IEC) class 0.5 performance. The family includes 64 or 128 KB Flash program memory and 4 KB RAM, to enable time-of-use and multi-tariff functions; as well as a high level of peripheral integration, including a LCD driver, hardware Real-Time Clock/Calendar (RTCC) and a Charge-Time Measurement Unit (CTMU) that enables a capacitive-touch user interface.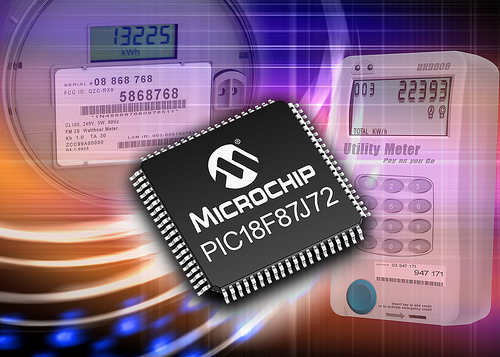 "The PIC18F87J72 MCU family addresses market demands for an integrated smart energy metering and power-monitoring MCU," said Mitchel Obolsky, vice president of Microchip's Advanced Microcontroller Architecture Division. "These new MCUs expand Microchip's existing energy-metering and power-monitoring portfolio. Customers now have the option of selecting the PIC18F87J72 MCU with AFE for small size, or a separate Microchip MCP390X AFE with a standard PIC MCU for maximum flexibility."
Features
Dual-channel 16-/24-bit Analog Front End (AFE) with Delta-Sigma A/D Converters and high-gain PGAs for 90 dB SINAD and -101 dBc THD (to 35th harmonic) performance
12-bit, 12-channel, 100ksps SAR A/D Converter
LCD driver for up to 132 pixels with voltage boost regulator
Hardware Real-Time Clock & Calendar
Charge Time Measurement Unit (CTMU)for temperature sensing and capacitive touch
Two Analog Comparators
Two UARTs
One Master Synchronous Serial Port (MSSP) support SPI and I2C
Four Timers
Two Capture/Compare/PWM (CCP)
Up to 12 MIPS performance
Internal oscillator support 31kHz to 8MHz and 4xPLL
8×8 Single Cycle Hardware Multiply
nanoWatt low power with Run, Idle and Sleep modes
Brown-Out-Reset (BOR)
Low Voltage Detect (LVD)
Operating Voltage Range: 2.0 to 3.6V for Digital and 12-bit ADC; 4.5 to 5.5V for 16-/24-bit Analog Front End (AFE)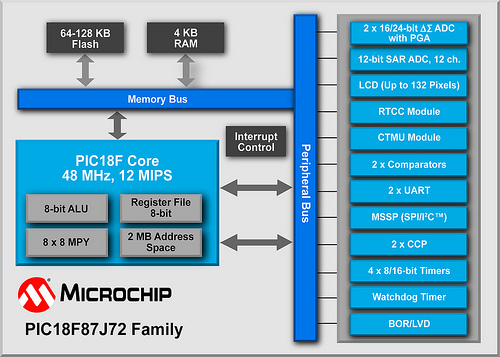 Energy-calculation firmware, a development board and a reference design are available, providing a complete solution that lowers costs and shortens time to market for a variety of smart-metering and energy-monitoring applications.
MCU Packaging, Pricing & Availability
The PIC18F87J72 family of MCUs are available in an 80-pin 12 mm × 12 mm × 1 mm TQFP package.