South Korea plans to build a 2.5 GW wind farm off the western coast of the Korean peninsula over the next ten years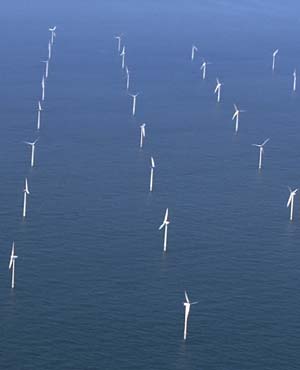 The Ministry of Knowledge Economy (MKE) said a total of 9.3trn won ($8.3bn) will need to be invested by 2019 to erect 500, 5 MW wind turbines in the West Sea off the Jeolla provinces.

"Basically, the scheme is composed of three phases. By 2013, we will have raised 20 5-megawatt turbines and add 180 by 2016 and 300 more by 2019," MKE director general Kang Nam-hoon said. "On the back of the mega-sized project, we strive to preempt the ever-growing global green market and become one of the three powerhouses in the offshore wind power generation.''

Kang projected that the wind complex will serve as an example when Asia's fourth-largest economy attempts to export its technologies for which global demand is likely to explode in the not-so-distant future.

"Many domestic companies are working on large-sized wind turbines. Offshore wind power generation has a shot at becoming the country's future cash cow when it becomes mainstream technology," Kang said.

Currently, such flagship companies as Hyundai Heavy Industries, Samsung Heavy Industries, Doosan Heavy Industries & Construction, and Hyosung are developing large wind turbines.

However, the project is not a certainty because the MKE hopes that the private sector including the aforementioned companies will provide almost all of the 9.2 trn won investment. The MKE is poised to fund a mere 29bn won, or 0.3 per cent of the overall plan, in the research and development of specific technologies.

The ministry said that the investments will continue because offshore wind power generation has outstanding business outlook despite critics claims that the project may fall through.