Atmel Corporation, a leader in microcontroller and touch solutions, announced the new Atmel SAM3N series to expand their ARM Cortex-M3 Flash Family. The new SAM3N series offers high performance, low-power consumption and scalable memory, pin-count, package options and capacitive touch support. The SAM3N series combines performance and simplicity by including development tools, software, In-system programming and support from the ARM third-party ecosystem network. The SAM3N series is a general-purpose microcontroller targeted at applications including consumer, industrial control, metering, toys, medical, test and measurement, 802.15.4 wireless networking, and PC, cell phone and gaming peripherals.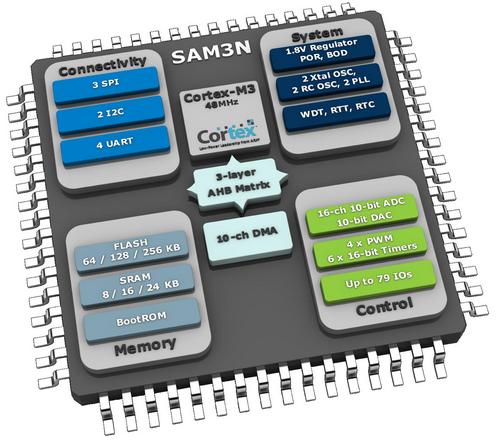 The Atmel SAM3N and SAM3S series are the first ARM-based microcontrollers that offer capacitive touch support for buttons, sliders and wheels with the Atmel QTouch® library and studio to deploy modern-user interfaces. The new series offers an extended supply range from 1.62 to 3.6V to enable a true 1.8V operation and 0.86mW per megahertz in active mode. The lower power consumption can also be reduced to 1.9uA in 1.8V standby mode with RTC (real-time clock) running.
The Atmel SAM3N Cortex-M3 Flash series is pin-to-pin compatible with the best-selling Atmel ARM7TDMI®-based SAM7S series to offer an ideal migration path to higher performance and lower power consumption. The new SAM3N series optimizes overall bill of material (BOM) with a lower price-point and by improving system-level integration with on-chip termination resistors.
"The SAM3N series offers the ideal general-purpose microcontroller with the best cost-to-power consumption, processing power and peripheral set ratio," said Jacko Wilbrink, director of ARM microcontrollers, Atmel Corporation. "The SAM3S offers additional features with higher performance and more peripherals options including 12-bit ADC, SDIO, USB full-speed device, external bus interface, and more Flash SRAM options."
Features
Core

ARM Cortex-M3 revision 2.0 running at up to 48 MHz
Thumb-2 instruction
24-bit SysTick Counter
Nested Vector Interrupt Controller

Pin-to-pin compatible with AT91SAM7S legacy products (48- and 64-pin versions) and ATSAM3S (48-, 64- and 100-pin version)
Memories

From 64 to 256 Kbytes embedded Flash, 128-bit wide access, memory accelerator, single plane
From 8 to 24 Kbytes embedded SRAM
16 Kbytes ROM with embedded bootloader routines (UART) and IAP routines

System

Embedded voltage regulator for single supply operation
Power-on-Reset (POR), Brown-out Detector (BOD) and Watchdog for safe operation
Quartz or ceramic resonator oscillators: 3 to 20 MHz main power with Failure Detection and optional low power 32.768 kHz for RTC or device clock
High precision 8/12 MHz factory trimmed internal RC oscillator with 4 MHz default frequency for device startup. In-application trimming access for frequency adjustment
Slow Clock Internal RC oscillator as permanent low-power mode device clock
One PLL up to 130 MHz for device clock
Up to 10 peripheral DMA (PDC) channels

Low Power Modes

Sleep and Backup modes, down to 3 µA in Backup mode
Ultra low power RTC

Peripherals

Up to 2 USARTs with ISO7816, IrDA®, RS-485 and SPI mode
Two 2-wire UARTs
2 Two Wire Interface (I2C compatible), 1 SPI
Up to 6 Three-Channel 16-bit Timer/Counter with capture, waveform, compare and PWM mode. Quadrature Decoder Logic and 2-bit Gray Up/Down Counter for Stepper Motor
4-channel 16-bit PWM
32-bit Real-time Timer and RTC with calendar and alarm features
Up to 16 channels, 384 KSPS 10-bit ADC
One 500 KSPS 10-bit DAC

I/O

Up to 79 I/O lines with external interrupt capability (edge or level sensitivity), debouncing, glitch filtering and on-die Series Resistor Termination
Three 32-bit Parallel Input/Output Controllers

Packages

100-lead LQFP, 14×14 mm, pitch 0.5 mm / 100-ball LFBGA, 9×9 mm, pitch 0.8 mm
64-lead LQFP, 12×12 mm, pitch 0.5 mm / 64-pad QFN 9×9 mm, pitch 0.45 mm
48-lead LQFP, 9×9 mm, pitch 0.5 mm / 48-pad QFN 7×7 mm, pitch 0.45 mm
The Atmel SAM3N series is a member of a Flash microcontroller family based on the high-performance 32-bit ARM Cortex-M3 RISC processor. The new ARM-based microcontroller series provides processing power and features such as system control, sensor interfaces, 64k to 256kByte Flash memory options, connectivity capabilities and user interface support. It embeds a rich set of peripherals including ADC/DAC and up to 16 timers and four UARTs supporting ISO7816 standard. In addition, functionality like On-Die-Termination (ODT) for simplification of PCB design has been integrated.