Contribute to More Compact Smartphones, Mobile Phones, E-book Reader and, Digital Cameras
Renesas Electronics announced the availability of the R8C/3NT Group of microcontrollers (MCUs) that feature an industry-leading small package, built-in flash memory, and touch key functions. The new MCUs are suitable for products such as smartphones, mobile phones, e-book readers, digital cameras, and handheld game consoles.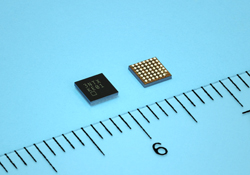 Renesas Electronics already mass produces flash MCUs with on-chip capacitive touch sensor circuits for use in applications including electric household appliances such as white goods, AV equipment, office equipment, and mobile devices. The new R8C/3NT Group has specifications that have been further refined for mobile devices and features an ultra-compact WPP package.
The R8C/3NT Group integrates on a single chip a capacitive touch sensor circuit and a flash MCU. It features a wafer process package (WPP) that is formed on the wafer before it is cut into individual chips, resulting in a compact package size (3 × 3mm) approximately 64 percent smaller than that of Renesas Electronics' R8C/3JT Group, and improved communication functions that enable connection of the multiple sensors required in devices with advanced functionality. The R8C/3NT Group will contribute to the realization of more compact portable products.
Key features of the R8C/3NT Group of MCUs:
Ultra-compact size of 3 mm × 3 mm
The use of a wafer process package (WPP) makes possible a mounting area of 3 mm × 3 mm (package thickness: 0.64 mm), which is among the smallest in the industry for a flash MCU designed for touch panel applications. This contributes to more compact system size overall.
Enhanced communication functions
To ensure smooth transfer of data to and from external sensors and IC chips, the R8C/3NT incorporates an I2C bus interface and a four-channel synchronous serial communication unit (SSU) module with chip select. The new MCUs also incorporate a maximum of 128KB of flash memory, increased more than 3.5 times from the existing MCUs, making it possible to simplify connection of multiple sensors.
In contrast to Renesas Electronics' existing R8C/3GC touch panel control MCU (with no on-chip touch panel circuit), the R8C/3NT has the following advancements:
Mounting area approximately 42 percent smaller than a two-chip configuration with a conventional touch sensor IC chip (comparison with existing Renesas Electronics products).
The capacitive touch sensor circuit has five channels and enables implementation of touch keys, track wheel, and slider controls. This makes it possible to design systems that are more cosmetically attractive and also more resistant to moisture and dust.
The CPU processing time associated with the touch sensors is reduced dramatically, and it is possible to reduce system power consumption by about 10 percent in comparison with software implementations of touch sensor control using existing Renesas Electronics products.
The R8C/3NT retains the data transfer controller, data flash with background operation, power-on reset, voltage detection function, and high-speed on-chip oscillator from the earlier R8C/3GC, making it suitable for a variety of sophisticated applications employing multiple sensors.
The R8C/3NT Group of MCUs comprises four product versions with ROM sizes ranging from 48 KB to 128 KB.
Furthermore, by using an operation tool called a workbench with a graphical user interface (GUI), essential design tasks such as electrode design, sensitivity adjustment, threshold value setting, and signal monitoring can be performed easily, contributing to a reduction in design man-hours and development costs. Settings can be written to the data flash to allow for fine tuning of individual models. This makes it possible for customers to incorporate highly accurate touch sensor solutions into their products.