The C8051F380DK Development Kit contains everything needed to develop applications with the C8051F380, F381, F382, F383, F384, F385, F386 and F387 MCUs.
Detailed Description
The C8051F38x Development Kit includes a target board with a C8051F380 device pre-installed for evaluation and preliminary software development. Numerous input/output (I/O) connections are provided to facilitate prototyping using the target board.
Features
Analog I/O terminal block
USB connector
RS232 connector
USB Power or VDD power
Serial Adapter target board power connector
96-pin female connector
Switches and LEDs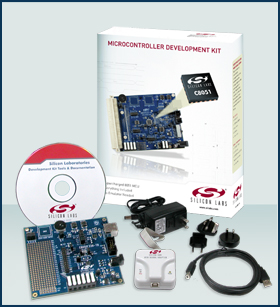 The C8051F380DK Development Kit includes:
C8051F380 target board
Quick Start Guide
Silicon Laboratories Integrated Development Environment (IDE)
USB debug adapter
Wall power adapter
AC to DC universal power adapter
USB cables and complete documentation