The MOST ToGo system is meant to be an exemplary project with a focus on teaching how to create a networked infotainment system based on MOST technology. As such, the system architecture is kept simple, and the function of each device is kept as simple as possible to aid in learning. The basic MOST ToGo system contains 3 nodes: A simple audio source device (AuxIn), a simple audio sink device (Amp), and a controller device that has a simple user interface (HMI) The HMI is the network master, while the source and sink devices are network slave devices.
Prices
Detailed Description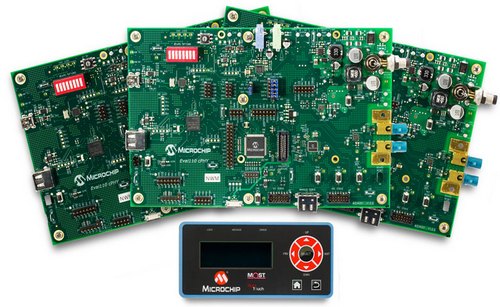 The default firmware creates a system which includes a master or controller device, a source device and an sink device. The source and sink devices are slave nodes in the system. The master controller device is connected to the simple HMI display and is referred to as the HMI_Master device in the system. The source device is meant to connect an analog source (MP3 player) to the MOST network and is called the MP3_AuxIn node. The sink device implements a MOST network sink which connects to headphones or powered speakers and is called the Main_Amp node. Additionally, the master device can also provide another analog source input (HMI_Aux In) and headphone output (HMI_Amp) so that the overall system has two sources and two sinks.
The kit is based on the OS81110 cPhy Evaluation Board. In addition to the major components, the board also has several user interface components which are listed below.

OS81110 cPhy Evaluation Board
A complete MOST150 Network device, utilizing the OS81110 Intelligent Network Interface Controller (INIC) device and the OS82150 MOST150 Coaxial Transceiver device. An on-board PIC32MX795 External Host Controller (EHC) is available for development of custom application code or use of application code provided by Microchip. An integrated OS85650 I/O Companion Chip (IOC) provides I/O port expansion for additional application flexibility. The OS81110 cPhy Board also supports power management, controlled by the MPM85000 Automotive Power management Device (PwrMgr), a MOST specification compliant power management device.
Features
Integrated Intelligent Network Interface Controller (INIC)
Integrated MOST150 Coaxial Transceiver for Coaxial Physical Layer (cPHY) interface to a MOST150 Network
Integrated I/O Companion Chip (IOC), including DTCP coprocessor
Integrated PIC32 External Host Controller (EHC)
Feature set expansion via Daughter Board and Auxiliary connectors supporting additional application options (e.g. video sourcing/sinking and low frequency signal tunneling)
Stereo audio capabilities (via INIC or IOC Streaming Port)
Automotive Grade Power Supply
MOST specification compliant power management capabilities
Application LEDs
WAKE/SLEEP switch (ON_SW to MPM85000)
Reset Switches
DIP switches
Rotary switch
Power switch
Connectors for cPhy, 12V power, and ECL
Lock LED
USB debug print and flashing port
Each board has unique firmware installed for its intended application. The boards have labels on them indicating which is Network Master, AuxIn and AudioAmp.
KIT CONTENTS
The MOST150 cPhy MOST ToGo Evaluation Kit contains the following items:
3 OS81110 cPhy Evaluation boards (AIS14001V1.0.0)
1 Microchip RightTouch HMI board (DB0600PCB1.A)
3 Coaxial cables with FAKRA connectors
3 board power cables - Binder to banana plugs
3 ECL cables
1 USB8514 4 port USB hub
3 USB A - MiniB cables for hub
1 USB A - B cable for Hub to PC connection
1 12V Power supply with banana jacks for Evaluation Boards
1 5V Power supply for USB Hub
1 1/8" Audio cable for AuxIn connection
1 Set of Headphones
Other Names:
MOST150 cPhy MOST ToGo Evaluation Kit B20001, MOST150 cPhy MOST ToGo Evaluation Kit B20001