Development Module FTDI MM900EV-LITE
| | |
| --- | --- |
| Manufacturer | FTDI |
| Part Number | MM900EV-LITE |
MM900EV-LITE Development Module
Prices
MM900EV-LITE on RadioLocman.Price
— от
2 702
до
6 099
$
6
offers from
6
suppliers
Макетные платы и комплекты - другие процессоры FT90 Dev Module A micro-B USB
| | | |
| --- | --- | --- |
| | FTDI | 2 702 $ |
| | | 4 506 $ |
| | FTDI | 6 099 $ |
| | FTDI | по запросу |
Detailed Description
The MM900EV-LITE is a development module for FTDI's 32-bit high performance FT90x Microcontroller family, which is used to develop and demonstrate the functionality of the FT900 Embedded Microcontroller.
FT900 module, 32-bit microcontroller with 256kB flash memory, 64kB data RAM and 256kB program memory embedded.
SD3.0, USB2.0 Device, several interface pin headers and connectors included.
Extra memory capacity can be made available via the Micro SD card socket. The standard USB-A port (which provides the USB hosting) is complemented by a Micro-B USB port (which serves as a USB device port and a power source connection). A 40-way expansion connector enables access to the IC's complete complement of IO, while a Micro-MaTch 2×5 female socket facilitates the debugging/downloading process. An additional two 8-pin 2.54mm pitch connectors and 16-pin 0.5mm pitch FFC/FPC connector permit interfacing with FT800/FT810 EVE display modules.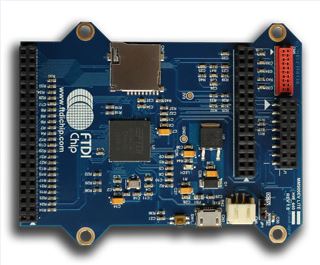 Key Features:
FT900 100-pin QFN package microcontroller;
Micro SDcard socket support.
A Micro-B USB for connecting to a USB host or providing a power supply over USB for the board.
2×8 pins 2.54mm pitch dual entry female header and 16 pins 0.5mm pitch FFC/FPC connectors for SPI master to support LCD display modules
2×5 pins 1.27mm pitch female Micro-MaTch connector for software download.
2×20 pins 2.54mm pitch female header support for external feature expansions
2×15 pins 2.54mm pitch female header support for external feature expansions.
+5V alternative power supply DC connector.
Hardware Reset button provided.
Main Features of Kit or Board
Parameter
Value
Base component
FTDI
Core
RISC
Category, bit
32-bit
Supported families
FT800-EVE
Board peripherals

I/O pins
I2C interface
I2S
SPI
1-Wire interface
USB
USB-device
USB-Host
JTAG/BDM
SDIO/SD/MMC
user buttons
user LEDs
Power Management
Other Names:
MM900EVLITE, MM900EV LITE
You may have to

register

before you can post comments and get full access to forum.