In-Circuit Debugger/Programmer Microchip MPLAB PICkit 4 (PG
| | |
| --- | --- |
| Manufacturer | Microchip |
| Part Number | MPLAB PICkit 4, PG164140 |
Fast programming, increased functionality, at the same price.
Prices

Detailed Description
The MPLAB PICkit 4 In-Circuit Debugger/Programmer allows fast and easy debugging and programming of PIC and dsPIC flash microcontrollers, using the powerful graphical user interface of MPLAB X Integrated Development Environment (IDE), version 4.15.
The MPLAB PICkit 4 is connected to the design engineer's computer using a high-speed 2.0 USB interface and can be connected to the target via an 8-pin Single In-Line (SIL) connector. The connector uses two device I/O pins and the reset line to implement in-circuit debugging and In-Circuit Serial Programming (ICSP). An additional micro SD card slot and the ability to be self-powered from the target means you can take your code with you and program on the go.
The MPLAB PICkit 4 programs faster than its predecessor and comes ready to support PIC and dsPIC MCU devices. Along with a wider target voltage, the PICkit 4 supports advanced interfaces such as 4-wire JTAG and Serial Wire Debug with streaming Data Gateway, while being backward compatible for demo boards, headers and target systems using 2-wire JTAG and ICSP. The PICkit 4 also has a unique programmer-to-go function with the addition of a micro SD card slot to hold project code and the ability to be powered by the target board.
Note: The PICKit 4 is compatible with MPLAB X IDE version 4.15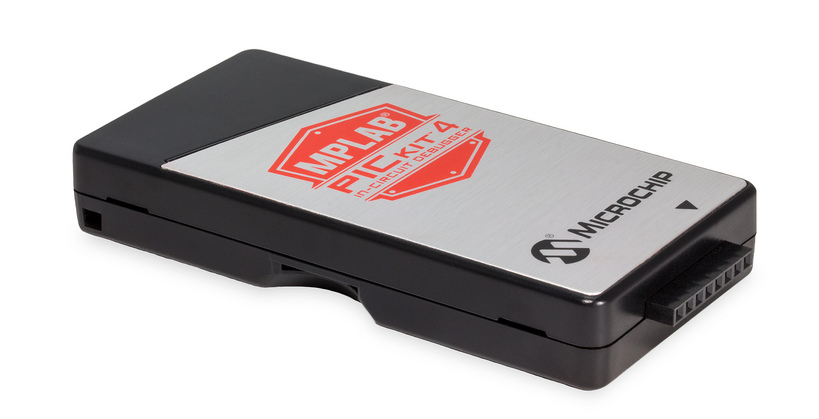 Features
Matches silicon clocking speed

Automatically programs as fast as the device will allow

Target voltage of 1.20V to 5.5V

Wide target voltage supports a variety of devices

Can supply up to 50mA of power to the target

Can be powered from the target to program in the field*

Minimal current consumption at <100µA from target
Portable USB-powered and RoHS-compliant

Powered by a high-speed USB 2.0, no external power required
CE and RoHS-compliant

8-pin single in-line header

Supports advanced interfaces such as 4-wire JTAG and Serial Wire Debug with streaming Data Gateway

Compatibility

Backward compatible for demo boards, headers and target systems using 2-wire JTAG and ICSP

Option to be self-powered from the target (2.7V to 5.5V)
Programmer-to-Go (PTG) support

SD card slot to holds program data
Press on the logo to program the target

Cost effective

Features and performance at a fraction of the cost of comparable debugger/programmers

Ease of maintenance and feature upgrade
Main Features of Programmer
Parameter
Value
Type

In-circuit
Programmer/emulator

Connection interface
USB
Target connection
Version
desktop
Supported devices

MCU Microchip PIC
MCU Microchip dsPIC
Other Names:
MPLAB PICkit 4 PG164140, MPLAB PICkit 4 PG164140