Microchip Amazon FreeRTOS Curiosity PIC32MZ EF Bundle (DM320104-BNDL)
| | |
| --- | --- |
| Manufacturer | Microchip |
| Part Number | DM320104-BNDL |
Amazon FreeRTOS Curiosity PIC32MZ EF Bundle is used to develop Amazon FreeRTOS-based applications.
Prices
Detailed Description
The bundle consists of Curiosity PIC32MZ EF development board, WiFi 7 Click Board & USB UART Click Board that can be used to develop an AWS cloud-connected applications. The bundle also includes the LAN8720A PHY Daughter Board to create an Ethernet-connected demo.
Amazon FreeRTOS is a microcontroller operating system that makes small, low-powered edge devices easy to program, deploy, secure and maintain. Amazon FreeRTOS is based on FreeRTOS, a popular open source operating system for microcontrollers, and includes software libraries that make it easy to securely connect devices locally to AWS Greengrass, directly to the cloud, and update them remotely
The high-performance PIC32MZ EF MCUs host the Amazon FreeRTOS and run at up to 415 DMIPs with industry-leading connectivity options including 10/100 Ethernet MAC, Hi-Speed USB & Dual CAN, ample Flash memory of up to 2 MB, rich peripherals and a robust tool chain which empower embedded designers to rapidly build complex applications.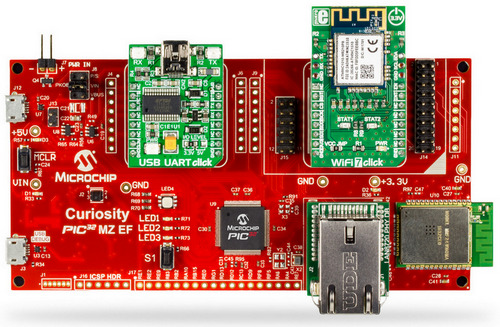 Features
PIC32MZ2048EFM100 32-bit MCU:

200MHz, 2MB Flash, 512KB SRAM,
Integrated FPU & Crypto accelerator,
Hi-Speed USB, Ethernet & CAN

ATWINC1500 IoT network controller:

IEEE 802.11 b/g/n Single-band 2.4GHz
Extreme low power
Security protocols supported: WPA/WPA2 Personal, TLS, SSL
Network services: DHCP, DNS, TCP/IP (IPv4), UDP, HTTP, HTTPS

LAN8720A PHY Daughter Board:

High-Performance 10/100 Ethernet Transceiver
Compliant with IEEE802.3/802.3u (Fast Ethernet)
Compliant with ISO 802-3/IEEE 802.3 (10BASE-T)

X32 header for audio I/O using Microchip audio daughter boards

On Board WI-FI N Module, MRF24WN0MA, 2.4 GHz IEEE 802.11n compliant wireless module

Header for flexible Ethernet PHY

Compatible with ETHERNET PHY DAUGHTER BOARD AC320004-3
The Microchip LAN8720A PHY Daughter Board is populated with a small footprint RMII 10/100 Ethernet transceiver (LAN8720A).

GPIO expansion header
Debug USB connector for programming/debugging
Target USB connector for PIC32 USB connectivity (Device/Host mode).
Two mikroBUS click sockets to expand functionality using MikroElektronika Click Adapter Boards
Header for external 5V input .
On-Board Debugger.
ICSP header for external debugger, such as MPLAB REAL ICE or MPLAB ICD 3
Three user LEDs , One RGB LED.
One User and Reset Button.
Package Contents
Curiosity PIC32MZ EF Development Board (P/N: DM320104)
USB UART click (P/N: MIKROE-1203)
WiFi 7 click - ATWINC1510-MR210PB (P/N: MIKROE-2046)
LAN8720A PHY Daughter Board (P/N: AC320004-3)
Development Board User Guide and Schematic
Other Names:
DM320104BNDL, DM320104 BNDL