Multi-processor starter kit Innovative Experiment IE-SKIT PIC STATION 3
This is the latest generation of INEX's PIC microcontroller experiment kit.
Detailed Description
Skit-PIC Station 3 supports lots of PIC microcontroler package and all can work in same time. No need swap the chip in each socket. It means experimenters could be learn and develop the multi-processor system in only one experiment platform.
Skit-PIC Station 3 comes with PX-200 USB in-system programmer, PIC Station 3 experiment board and also the necessary experimental components. It was designed to allow students or engineers to easily exercise and explore the capabilities of the PI C microcontrollers.
Skit-PIC Station 3 supports all popular software development tools such as Microchip's MPLAB IDE, CCS C compiler, MikroBasic, MikroPascal, MikroC etc. The CD-ROM contains MPLAB IDE, some the limit version of popular Basic and C compiler.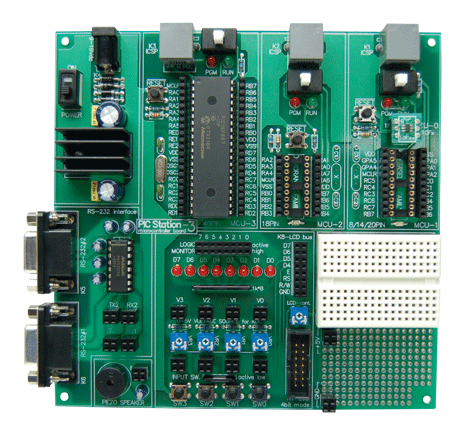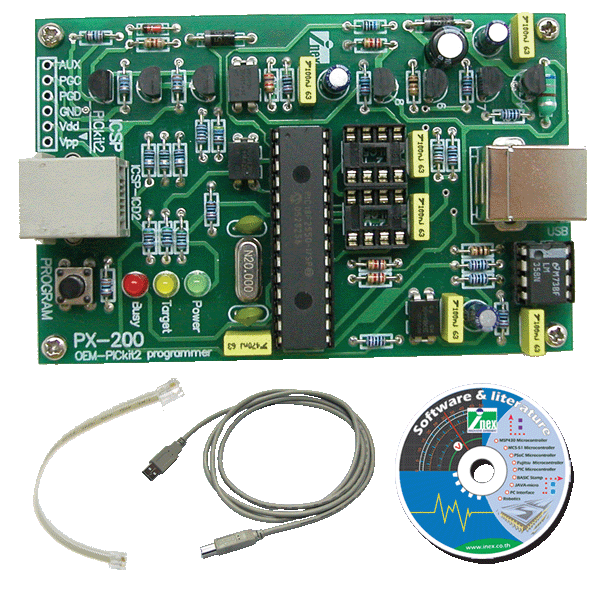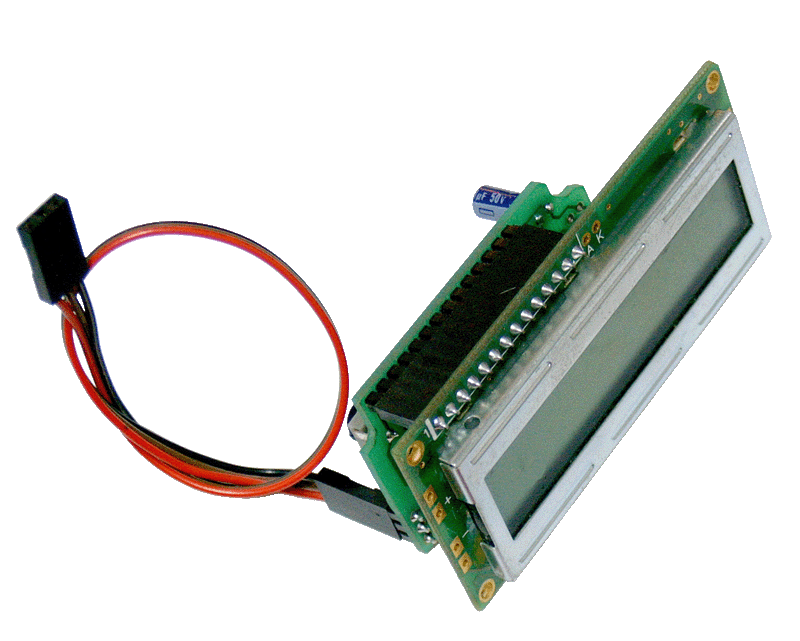 Technical features
Microcontroller section
3 of PIC microcontroller main sockets for supporting the different package of PIC micrcontroller. It includes :
40-pin socket that inserted PIC16F887 chip. Also, you can change to any 40-pin DIP of PIC16f/18F microcontroller
18-pin socket that inserted PIC16F88 chip. Also, you can change to any 18-pin DIP of PIC16F/18F microcontroller
20-pin socket that inserted PIC16F690 chip. Also, you can change to any 8/14/20-pin DIP of PIC16F/18F microcontroller and special bonus; the 6 pin female header for supporting the PIC10F202 module (must use only one package in a time)
Each microcontroller socket has ICD2 jack for supporting the In-system programming (PX-200 or PX-700 USB programmer is recommended). You can program and run all 3 sockets in same time. No need to change !
Fixed 20MHz crystal clock for 40-pin microcontroller and 4MHz crystal for 18-pin PIC microcontroller
Free clock source selection for 20-pin PIC microcontroller socket
Prepare all I/O port of PIC microcontroller in each socket
Direct downloading via ICD2 jack by Microchip's PicKit-2 software. It can operate with WindowsXP and Vista. You can set the full option of configuration bits for each microcontroller
One mode switch for program and run in each microcontroller socket with Mode LED indicators.
Support the multi-processor experiments and applications.
Experiment tools :
+5Vdc supply voltage
8-LED are active with logic "1"
LCD connector support 16×2 LCD up to 20×4 LCD
4 of push-button switches with pull-up resistor
2 of RS-232 serial port interfacing circuits
Pulse generator 1Hz, 10Hz, 100Hz and 1kHz with LED indicators
4 of 0 to +5V Variable voltage sources for A/D converter experiment
Freely Piezo speaker
Mini-breadboard 4.5 × 3.5 cm. 170 points
187 soldering pads prototyping area
Kit content :
PIC Station-3 experiment board (includes PIC10F222 module x2, PIC12F683, PIC16F648 and PIC16F887)
PX-200 programmer
USB cable
CX-232 Serial port cable
DC adaptor
16×2 LCD module with cable
Wire jumper set
CD-ROM and Technical leaflet.
Other Names:
SKIT PIC Station 3, IESKIT PIC STATION 3, SKIT PIC Station 3, IE SKIT PIC STATION 3, SKIT PIC Station 3 IE-SKIT PIC STATION 3, SKIT PIC Station 3 IE-SKIT PIC STATION 3