The K60 MCU family includes IEEE 1588 Ethernet, full- and high-speed USB 2.0 On-The-Go with device charge detect capability, hardware encryption and tamper detection capabilities. Devices start from 256 KB of flash in 100LQFP packages extending up to 1 MB in a 256MAPBGA package with a rich suite of analog, communication, timing and control peripherals. High memory density K60 family devices include an optional single precision floating point unit, NAND flash controller and DRAM controller.
Common features among the K60 family
Operating characteristics

Voltage range 1.71V - 3.6V
Flash memory programming down to 1.71V
Temperature range (TA) -40 to 105°C
Flexible modes of operation

Core features

Next generation 32-bit ARM Cortex-M4 core
Supports DSP instructions
Nested vectored interrupt controller (NVIC)
Asynchronous wake-up interrupt controller (AWIC)
Debug & trace capability

2-pin serial wire debug (SWD)
IEEE 1149.1 Joint Test Action Group (JTAG)
IEEE 1149.7 compact JTAG (cJTAG)
Trace port interface unit (TPIU)
Flash patch and breakpoint (FPB)
Data watchpoint and trace (DWT)
Instrumentation trace macrocell (ITM)

System and power management

Software and hardware watchdog with external monitor pin
DMA controller with 16 channels
Low-leakage wake-up unit (LLWU)
Power management controller with 10 different power modes
Non-maskable interrupt (NMI)
128-bit unique identification (ID) number per chip

Clocks

Multi-purpose clock generator

PLL and FLL operation
Internal reference clocks (32kHz or 2MHz)

12MHz to 32MHz crystal oscillator
32kHz to 40kHz crystal oscillator
Internal 1kHz low power oscillator
DC to 50MHz external square wave input clock

Memories and Memory Interfaces

FlexMemory consisting of FlexNVM (non-volatile flash memory that can execute program code, store data, or backup EEPROM data) or FlexRAM (RAM memory that can be used as traditional RAM or as high-endurance EEPROM storage, and also accelerates flash programming)
Flash security and protection features
NAND flash controller supports up to 32-bit ECC current and future NAND types. ECC management handled in hardware, minimizing software overhead
DRAM controller supports connection of DDR, DDR2 and low-power DDR memories. Max. frequency (clock/data) 125/250 MHz

Security and integrity

Hardware Encryption coprocessor for secure data transfer and storage. Faster than software implementations and with minimal CPU loading. Supports a wide variety of algorithms - DES, 3DES, AES, MD5, SHA-1, SHA-256
System security and tamper detect with secure real-time clock with independent battery supply. Secure key storage with internal/external tamper detect for unsecure flash, temperature, clock, and supply voltage variations and physical attack detection
Memory protection unit provides memory protection for all masters on the cross bar switch, increasing software reliability
Cyclic redundancy check engine validates memory contents and communication data, increasing system reliability
Independent-clocked COP guards against clock skew or code runaway for fail-safe applications such as the IEC 60730 safety standard for household appliances

Analog

16-bit SAR ADC
Programmable voltage reference (VREF)
High-speed Analog comparator (CMP) with 6-bit DAC

Timers

1×8ch motor control/general purpose/PWM flexible timer (FTM)
1×2ch quadrature decoder/general purpose/PWM flexible timer (FTM)
Carrier modulator timer (CMT)
Programmable delay block (PDB)
1×4ch programmable interrupt timer (PIT)
Low-power timer (LPT)

Communications

SPI
I2C with SMBUS support
UART (w/ ISO7816, IrDA and hardware flow control)
USB 2.0 On-The-Go (full speed). Device charge detect optimizes charging current/time for portable USB devices enabling longer battery life. Low-voltage regulator supplies up to 120 mA off chip at 3.3V to power external components from 5V input
IEEE 1588 Ethernet MAC with hardware time stamping provides precision clock synchronization for real-time industrial control

Human-machine interface

GPIO with pin interrupt support, DMA request capability, digital glitch filter, and other pin control options
Capacitive touch sensing inputs
K60 Block Diagram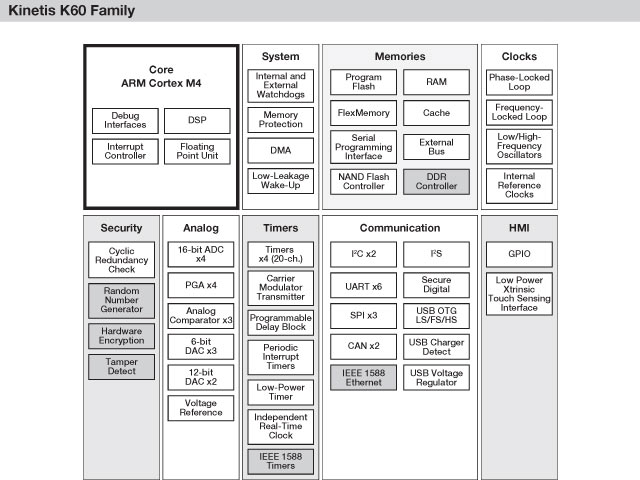 Memory and package options for the K40 family
The following table summarizes the memory and package options for the K40 family. All devices which share a common package are pin-for-pin compatible.
Perf.
MHz

Memory

Package

Flash
(KB)

Flex
NVM
(KB)

Flex
RAM
(KB)

SRAM
(KB)

100
LQFP

104
BGA

144
LQFP

144
BGA

196
BGA

256
BGA

100

256

-

-

64

+

+

+

+

-

-

512

-

-

128

+

+

+

+

-

-

256

256

4

64

+

+

+

+

-

-

120

512

512

16

128

-

-

+

+

+

+

150

512

512

16

128

-

-

+

+

+

+

180

512

512

16

128

-

-

-

-

+

+

120

1024

-

-

128

-

-

+

+

+

+

150

1024

-

-

128

-

-

+

+

+

+

180

1024

-

-

128

-

-

-

-

+

+