Application Note AND9127/D
February 2013
This application note examines methods of evaluating the ruggedness of IGBTs offered by ON Semiconductor. The three measures discussed are the gate voltage rating, the short circuit rating and the UIS rating. Results of device testing will be reviewed and the applicability of the various tests will be explained.
There are several measurements that can be used to quantify the ruggedness of an IGBT. They include the short circuit rating, the UIS rating and the gate voltage rating. All of these measures cover a different area of operation and combined, they can give insight into the survival of the IGBT during an abnormal transient event as well as provide operating limits to assure high reliability of the device.
Download Application Note AND9127/D (481 Kb)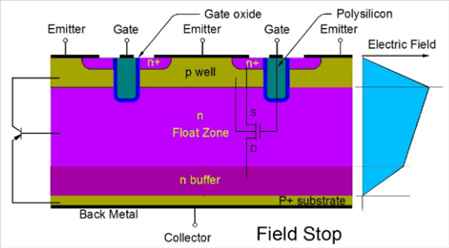 Field Stop IGBT Diagram