Application Note 5689
November 2013
David Andeen
The combination of aging electricity grid infrastructure and renewable portfolio standards present new challenges in the distribution automation space worldwide. In this application note, we review three key areas: asset protection, security, and asset management. In each area, device-level silicon provides benefits to ease the transition to a complete smart grid.
You may think that today is a smartphone/tablet world. In fact, there are more "smart" devices around than most realize. Take, for example, the smart grid with smart meters. Every day utilities are installing a shiny new smart meter on our house and encouraging us to take control of our energy future. We are to monitor and report consumption on websites and sign up for programs, such as those monitoring time of use, - aimed at conserving electricity. It may not be a surprise, but managing all this mounting, distributed "smart" data is one of industry's newest challenges. Smartphones and tablets require a host of computational power behind them, known as the "cloud." Because of this, smart meters and the smart grid require effective infrastructure support to assess the data gathered and to optimize energy delivery. Witness the ongoing importance of computer technology. Enter the emerging role of distribution automation.

Download Application Note 5689 (89 Kb)
Related datasheets: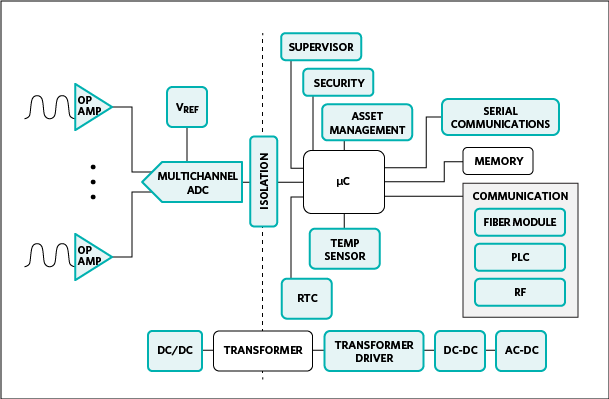 Essential components in a signal chain that lies at the heart of a smart grid implementation.