»
Circuits
»
Power
·
Application Notes
Brushless Motor Drive (Direct PWM Drive, Quiet Predriver IC)
Application Note ANDLV8136V/D
December 2013
The LV8136V is a PWM system pre-driver IC designed for three-phase brushless motors. This IC reduces motor driving noise by using a high-efficiency, quiet PWM drive (150-degree drive system). It incorporates a full complement of protection circuits and, by combining it with a hybrid IC in the STK611 or STK5C4 series, the number of components used can be reduced and a high level of reliability can be achieved. Furthermore, its power-saving mode enables the power consumption in the standby mode to be reduced to zero. This IC is optimally suited for driving various large-size motors such as those used in air conditioners and hot-water heaters.
Functions:
Three-phase bipolar drive
Quiet PWM drive
Supports drive phase control (15-degree lead angle for 150-degree current-carrying drive. From this state, a lead angle from 0 to 28 degrees can be set in 16 steps)
Supports power saving mode (power saving mode at CTL pin voltage of 1.0V (typ) or less; ICC = 0mA, HB pin turned off)
Supports bootstrap (maximum duty limit)
Automatic recovery type constraint protection circuit
Forward/reverse switching circuit, Hall bias pin
Current limiter circuit, low-voltage protection circuit, and thermal shutdown protection circuit
FG1 and FG3 output (360-degree electrical angle/1 pulse and 3 pulses)

Download Application Note ANDLV8136V/D (1.5 Mb)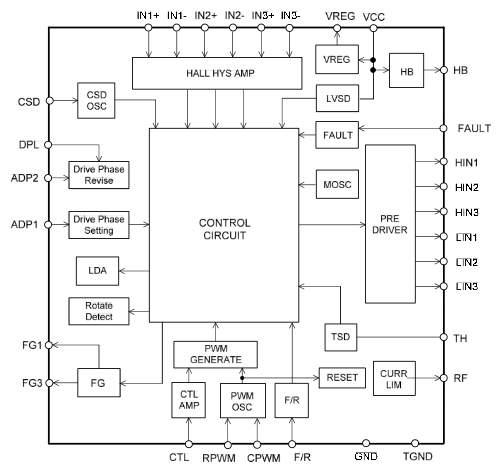 Block Diagram. LV8136V Application Note
You may have to

register

before you can post comments and get full access to forum.
News on theme:
RadioLocman on the Social Web: