Datasheet Linear Technology LTC2270CUP#TRPBF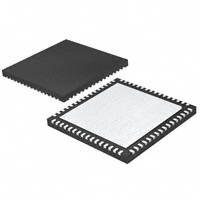 16 Bit, 20 Msps Low Noise Dual ADC
Documents:
Manufacturer's Classification:
Data Conversion > Analog-to-Digital Converters (ADC) > High Speed ADCs
Other Names: LTC2270CUPTRPBF, LTC2270CUP TRPBF
Docket:
LTC2270 16-Bit, 20Msps Low Noise Dual ADC FEATURES DESCRIPTION
The LTC®2270 is a two-channel simultaneous sampling 16-bit A/D converter designed for digitizing high frequency, wide dynamic range signals. It is perfect for demanding applications with AC performance that includes 84.1dB SNR and 99dB spurious free dynamic range (SFDR). DC specs include ±1LSB INL (typ), ±0.2LSB DNL (typ) and no missing codes over temperature. The transition noise is 1.44LSBRMS. The digital outputs can be either full rate CMOS, Double Data Rate CMOS, or Double Data Rate LVDS. A separate output power supply allows the CMOS output swing to range from 1.2V to 1.8V. The ENC+ and ENC­ inputs may be driven differentially or single-ended with a sine wave, PECL, LVDS, TTL, or CMOS inputs. An optional clock duty cycle stabilizer allows high performance at full speed for a wide range of clock duty cycles.
L, LT, LTC, LTM, Linear Technology and the Linear logo are registered trademarks of Linear Technology Corporation. All other trademarks are the property of their respective owners. n Two-Channel Simultaneously Sampling ADC 84.1dB SNR (46VRMS Input Referred Noise) 99dB SFDR ±2.3LSB INL(Max) Low Power: 160mW Total, 80mW per Channel Single 1.8V Supply CMOS, DDR CMOS, or DDR LVDS Outputs Selectable Input Ranges: 1VP-P to 2.1VP-P 200MHz Full Power Bandwidth S/H Shutdown and Nap Modes Serial SPI Port for Configuration Pin Compatible with LTC2180: 16-Bit, 25Msps, 78mW LTC2140-14: 14-Bit, 25Msps, 50mW 64-Lead (9mm Ч 9mm) QFN Package APPLICATIONS Low P...
RadioLocman on the Social Web: