Datasheet Analog Devices AD8130ARMZ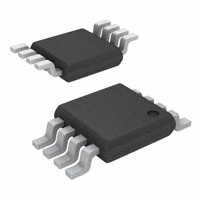 Low Cost 270 MHz Differential Receiver Amplifiers
Documents:
Docket:
Low Cost 270 MHz Differential Receiver Amplifiers AD8129/AD8130
FEATURES
High speed AD8130: 270 MHz, 1090 V/s @ G = +1 AD8129: 200 MHz, 1060 V/s @ G = +10 High CMRR 94 dB min, dc to 100 kHz 80 dB min @ 2 MHz 70 dB @ 10 MHz High input impedance: 1 M differential Input common-mode range ±10.5 V Low noise AD8130: 12.5 nV/Hz AD8129: 4.5 nV/Hz Low distortion, 1 V p-p @ 5 MHz AD8130, -79 dBc worst harmonic @ 5 MHz AD8129, -74 dBc worst harmonic @ 5 MHz User-adjustable gain No external components for G = +1 Power supply range +4.5 V to ±12.6 V Power-down CONNECTION DIAGRAM
+IN 1 ­V S 2
PD
3 AD8129/ AD8130
+ 8 7 6 5 ­IN
+VS OUT FB
02464-001 REF 4 Figure 1. The AD8129/AD8130 are differential-to-single-ended amplifiers with extremely high CMRR at high frequency. Therefore, they can also be effectively used as high speed instrumentation amps or for converting differential signals to single-ended signals. The AD8129 is a low noise, high gain (10 or greater) version intended for applications over very long cables, where signal attenuation is significant. The AD8130 is stable at a gain of 1 and can be used for applications where lower gains are required. Both have user-adjustable gain to help compensate for losses in the transmission line. The gain is set by the ratio of two resistor values. The AD8129/AD8130 have very high input impedance on both inputs, regardless of the gain setting. APPLICATIONS
High speed differential line receivers Differential-to-single-ended converters High speed instrumentation amps Level shifting GENERAL DESCRIPTION
The AD8129/AD8130 are designed as receivers for the transmission of high speed signals over twisted-pair cables to work with the AD8131 or AD8132 drivers. Either can be used for analog or digital video signals and for high speed data transmission.
120 110 100 90
CMRR (dB) The AD8129/AD8130 have excellent common-mode rejection (70 dB @ 10 MHz), allowing the use of low cost, unshielded twisted-pair cables without fear...
Series: AD8129, AD8130 (9)
RadioLocman on the Social Web: