Datasheet Analog Devices ADM1184ARMZ-REEL7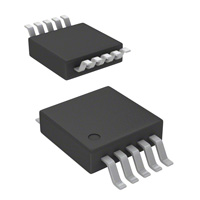 0.8% Accurate Quad Voltage Monitor
Documents:
Other Names: ADM1184ARMZREEL7, ADM1184ARMZ REEL7
Docket:
0.8% Accurate Quad Voltage Monitor ADM1184
FEATURES
Powered from 2.7 V to 5.5 V on the VCC pin Monitors 4 supplies via 0.8% accurate comparators 4 inputs can be programmed to monitor different voltage levels with external resistor dividers 3 open-drain enable outputs (OUT1, OUT2, and OUT3) Open-drain power-good output (PWRGD) Internal 190 ms delay associated with assertion of PWRGD 10-lead MSOP FUNCTIONAL BLOCK DIAGRAM
VCC POWER AND REF = 0.6V REFERENCE GENERATOR OUT1 VIN1 REF = 0.6V OUT2 VIN2 REF = 0.6V ADM1184 APPLICATIONS
Monitor and alarm functions Telecommunications Microprocessor systems PC/servers
VIN3 REF = 0.6V INTERNAL LOGIC OUT3 PWRGD VIN4 REF = 0.6V
07352-001 GND Figure 1. GENERAL DESCRIPTION
The ADM1184 is an integrated, 4-channel voltage-monitoring device. A 2.7 V to 5.5 V power supply is required on the VCC pin to power the device. Four precision comparators monitor four voltage rails. Each comparator has a 0.6 V reference with a worst-case accuracy of 0.8%. Resistor n...
RadioLocman on the Social Web: