Datasheet Diodes ZXTR2105F-7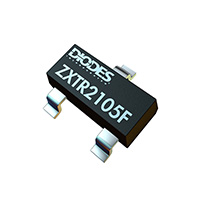 60 V Input, 5 V 15 mA Regulator Transistor
Documents:
Manufacturer's Classification:
Discrete > Bipolar Transistors > Special Function Transistors > High-Voltage Linear Regulators
Other Names: ZXTR2105F7, ZXTR2105F 7
Docket:
A Product Line of Diodes Incorporated ZXTR2105F
60V INPUT, 5V 15mA REGULATOR TRANSISTOR Description
The ZXTR2105F monolithically integrates a transistor, Zener diode and resistor to function as a linear regulator. The device regulates with a 5V nominal output at 15mA. It is designed for use in high voltage applications where standard linear regulators cannot be used. This function is fully integrated into a SOT23 package, minimizing PCB area and reducing the number of components when compared with a multi-chip discrete solution. Features Series Linear Regulator Using Emitter-Follower Stage Input Voltage = 7 to 60V Output Voltage = 5V ± 5% Fully integrated into a SOT23 Package Totally Lead-Free & Fully RoHS Compliant (Notes 1 & 2) Halogen and Antimony Free. "Green" Device (Note 3) Quali...
RadioLocman on the Social Web: