Datasheet Analog Devices ADG604YRUZ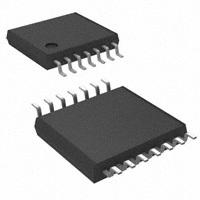 1 pC Charge Injection, 100 pA Leakage CMOS ±5-V/5-V/3-V 4-Channel Multiplexer
Documents:
Manufacturer's Classification:
Switches & Multiplexers > Analog Switches Multiplexers
Docket:
a 1 pC Charge Injection, 100 pA Leakage CMOS 5 V/5 V/3 V 4-Channel Multiplexer ADG604
FUNCTIONAL BLOCK DIAGRAM
ADG604
S1 4 S2 5
6 FEATURES 1 pC Charge Injection (Over the Full Signal Range) 2.7 V to 5.5 V Dual Supply 2.7 V to 5.5 V Single Supply Automotive Temperature Range: ­40 C to +125 C 100 pA Max @ 25 C Leakage Currents 85 Typ On Resistance Rail-to-Rail Operation Fast Switching Times Typical Power Consumption (<0.1 W) TTL/CMOS Compatible Inputs 14-Lead TSSOP Package APPLICATIONS Automatic Test Equipment Data Acquisition Systems Battery-Powered Instruments Communication Systems Sample and Hold Systems Remote-Powered Equipment Audio and Video Signal Routing Relay Replacement Avionics D S3 11 S4 10 1 OF 4 DECODER
1 14 2 A0 A1 EN GENERAL DESCRIPTION PRODUCT HIGHLIGHTS The ADG604 is a CMOS analog multiplexer, comprising four single channels. It operates from a dual supply of ± 2.7 V to ± 5.5 V, or from a single supply of 2.7 V to 5.5 V. The ADG604 switches one of four inputs to a common output, D, as determined by the 3-bit binary address lines, A0, A1, and EN. A Logic "0" on the EN pin disables the device. The ADG604 offers ultralow charge injection of ±1.5 pC over the entire signal range and leakage currents of 10 pA typical at 25°C. It offers on resistance of 85 typ, which is matched to within 2 between channels. The ADG604 also has low power dissipation yet gives high switching speeds. The ADG604 is available in a 14-lead TSSOP package. 1. Ultralow Charge Injection (Q INJ: ± 1.5 pC Typ over the Full Signal Range) 2. Leakage Current <0.5 nA max @ 85°C 3. Dual ± 2.7 V to ± 5.5 V or Single 2.7 V to 5.5 V Supply 4. Fully Specified to 125°C 5. Small 14-Lead TSSOP Package REV. 0
Information furnished by Anal...
RadioLocman on the Social Web: