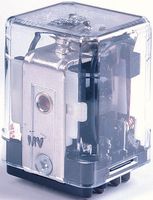 Part Number: KUP-5A15-24
Manufacturer: TE Connectivity
Description: POWER RELAY, SPDT, 24 VAC, 10 A, PLUG IN

Download Data Sheet
Docket:
KU series
KUP Enclosed Relay KUIP VDE 8mm Coil to Contacts KUGP VDE 8mm 3mm Gap Coil to Contacts KUEP 10 Amp 150VDC Load Switching KUMP 15 Amp 277VAC
File E22575 File LR15734 0435 Registration 1792 (KUIP) 0435 Registration 1792 (KUGP) License 81.12102.01
Features
· AC coils: 6-240VAC, 50/60 Hz. DC: 6-110VDC. · Contact arrangement up to 4PDT. · Wide selection of termination and mounting styles. · PC terminals available. · Push to test button and indicator lamps. · KUEP incorporates a blow out magnet for high voltage DC switching. · KUIP/KUGP are VDE approved. · Complete line of sockets and DIN rail. · Class B coil insulation.