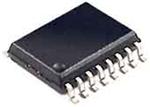 Part Number: MC908QC8CDXER
Manufacturer: Freescale
Description: 8- bit Microcontrollers (MCU) 8 bit MCU 8K FLASH PBFREE

Download Data Sheet
Docket:
8-bit Microcontrollers
8-bit Microcontrollers
HC08 QC Family Fact Sheet
Overview
Freescale's general market QC family of small-package, 8-bit microcontrollers is based on the popular HC08 core. The QC family members have strong analog capabilities, a complete set of serial modules and robust memory options. The QC family is fully local interconnect network (LIN) 2.0 and J2602 compliant and can function as LIN slaves for applications that require a cost-effective hardware solution. A variety of small packages (16-, 20- and 28-pin), combined with optimized peripheral sets and a powerful HC08 CPU, make this an attractive low-end controller family for a wide range of applications.