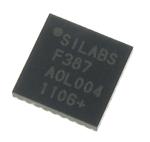 Part Number: C8051F387-GM
Manufacturer: Silicon Laboratories
Description: 8- bit Microcontrollers (MCU) USB-32K-Flash

Download Data Sheet
Docket:
May 18th, 2012
C8051F38x Errata
Erratum # 1 2 Title ADC0 Maximum Supply Current Specification External Oscillator on 32-pin packages Impact Information Major Affected Revision Data Sheet Version 1.0 Revision A
Impact definition: Each erratum is marked with an impact, as defined below: ˇ Minor ­ Workaround exists. ˇ Major ­ Errata that do not conform to the data sheet or standard. ˇ Information ­ The device behavior is not ideal but acceptable. Typically, the data sheet will be changed to match the device behavior.
1. Description: The specification in the C8051F38x data sheet (version 1.0) for the ADC0 maximum Power Supply Current is 880 ľA. The correct specification is 1 mA. Impact: The ADC0 peripheral may require up to 120 ľA more than what is stated in the data sheet. Workaround: No workaround exists for this issue. Resolution: Version 1.1 of the C8051F38x data sheet will include the correct value for the maximum Power Supply Current specification.