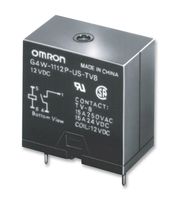 Part Number: G4W2214PUSHP12DC
Manufacturer: Omron
Description: RELAY, 10 A, PCB, 12 V

Download Data Sheet
Docket:
Text Power Relay ­ G4W PCB
Power Relays
SPST-NO DPST-NO G4W-1112P-US-TV8 G4W-2212P-US-TV5 5. Approved Standards US: UL, CSA certified 6. TV Ratings TV5: TV-5 TV8: TV-8 7. Special Function None: General purpose Z: Full-wave rectifier 8. Rated Coil Voltage 12, 24, 100 VDC
Impulse Withstand Voltage as High as 10 kV with 4kV Dielectric Strength: Ideal for Power Supply Switching
ROHS compliant. Creepage distance of 8 mm min. Dielectric strength of 4,000 VAC min. SPST-NO types conform to TV-8 rating. DPST-NO types conform to TV-5 rating. International 2.54mm terminal pitch.