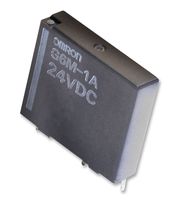 Part Number: G6M1A24DC
Manufacturer: Omron
Description: RELAY, SPST-NO, SLIM, 5 A, 24 V

Download Data Sheet
Docket:
PCB Text Power Relay ­ G6M Slim, Miniature Relay, Capable of Relaying Programmable Controller and Temperature Controller Outputs
ROHS compliant. Slim 5-mm width, and miniature size. Reduced mounting area ideal for high-density
mounting.
Highly efficient magnetic circuit for high
sensitivity (40% higher than the G6D, with power consumption of 120 mW).