Datasheet 5-1393302-1 - TE Connectivity RELAY, 20 A, SPST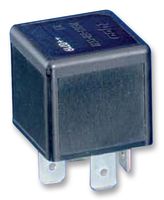 Part Number: 5-1393302-1
Detailed Description
Manufacturer: TE Connectivity
Description: RELAY, 20 A, SPST

Download Data Sheet
Docket:
Automotive Relays Plug-in Mini ISO Relays Power Relay F4
Pin assignment similar to ISO 7588 part 1 Plug-in or PCB terminals n Also available for 42VDC applications Customized versions on request ­ 24VDC versions with contact gap >0.8mm ­ Integrated components (e.g. resistor, diode) ­ Customized marking/color ­ Special covers (e.g. notches, release features, brackets) ­ Various contact arrangements and materials ­ For latching (bistable) version refer to Power Relay F7 A Latching or Mini Relay Latching ­ For shrouded/weatherproof dust cover versions refer to Shrouded Power Relay F4 A and VF4 A
n n
F134co_fcw1
Typical applications Cross carline up to 40A for example: ABS control, blower fans, car alarm, cooling fan, Electric Power Steering, energy management, engine control, fuel pump, heated front screen, lamps: front, rear, fog light, main switch/ supply relay, valves, wiper control.
Specifications:
Coil Resistance: 268 Ohm
Coil Type: DC, Monostable
Coil Voltage VDC Nom: 24 V
Contact Configuration: SPDT-CO
Contact Current Max: 20 A
Contact Voltage DC Nom: 24 V
External Depth: 25.9 mm
External Height: 24.9 mm
External Width: 25.9 mm
Mounting Type: Quick Connect
Operating Power Nom: 2.1 W
Relay Type: Power
RoHS: Yes
Other Names:
513933021, 5 1393302 1