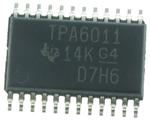 Part Number: TPA6011A4PWP
Manufacturer: Texas Instruments
Description: Audio Amplifiers Stereo Class-AB w/Ster Hdphn Drive

Download DataSheet
Docket:
www.ti.com TPA6011A4
SLOS392A ­ FEBRUARY 2002 ­ REVISED JULY 2004 3-W STEREO AUDIO POWER AMPLIFIER WITH ADVANCED DC VOLUME CONTROL
FEATURES Advanced DC Volume Control With 2-dB Steps From -40 dB to 20 dB ­ Fade Mode ­ Maximum Volume Setting for SE Mode ­ Adjustable SE Volume Control Referenced to BTL Volume Control 3 W Into 3- Speakers Stereo Input MUX Differential Inputs DESCRIPTION
The TPA6011A4 is a stereo audio power amplifier that drives 3 W/channel of continuous RMS power into a 3- load. Advanced dc volume control minimizes external components and allows BTL (speaker) volume control and SE (headphone) volume control. Notebook and pocket PCs benefit from the integrated feature set that minimizes external components without sacrificing functionality. To simplify design, the speaker volume level is adjusted by applying a dc voltage to the VOLUME terminal. Likewise, the delta between speaker volume and headphone volume can be adjusted by applying a dc voltage to the SEDIFF terminal.