Datasheet Central Semiconductor CMMR1U-02 TR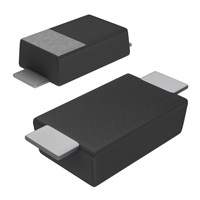 Surface mount Rectifier-Ultra Fast <100ns Single
Datasheets
Download » Datasheet

PDF, 367 Kb, File published: May 4, 2017




Docket ↓

CMMR1U SERIES
SURFACE MOUNT
ULTRA FAST RECOVERY
SILICON RECTIFIER
1 AMP, 200 THRU 800 VOLTS w w w. c e n t r a l s e m i . c o m DESCRIPTION:
The CENTRAL SEMICONDUCTOR CMMR1U Series
are high quality 1.0 Amp Surface Mount Silicon
Rectifiers, well constructed, highly reliable components
designed for use in all types of commercial, industrial,
entertainment, computer, and automotive applications.
The SOD-123F case occupies 58% less board space
than the SMA, with a 67% lower profile.
MARKING CODE: SEE MARKING CODE TABLE
ON FOLLOWING PAGE SOD-123F CASE
FEATURES: Flat lead design and clip assembly allow for a
larger die size and improved thermal efficiency Low cost Superior lot to lot consistency High reliability MAXIMUM RATINGS: (TA=25В°C unless otherwise noted)
Peak Repetitive Reverse Voltage
DC Blocking Voltage
RMS Reverse Voltage
Average Forward Current (TL=90В°C)
Peak Forward Surge Current (8.3ms) SYMBOL
VRRM
VR ...
Prices
Moldel Line
Series:
CMMR1U-02
(2)
Other Names:
CMMR1U02 TR, CMMR1U 02 TR
RadioLocman on the Social Web: