»
Datasheets
»
PROM
Datasheet Intersil HM6-6617/883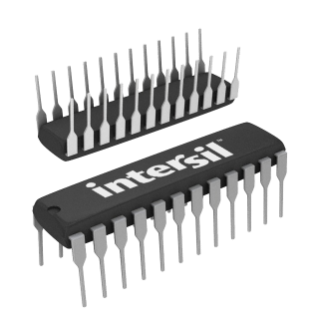 2kx8 CMOS PROM
Datasheets
Download » Datasheet

PDF, 270 Kb, Revision: 2017-12-01


HM-6617/883 Datasheet


Docket ↓

DATASHEET
HM-6617/883 FN3016
Rev.3.00
June 2004 2K x 8 CMOS PROM Features This Circuit is Processed in Accordance to MIL-STD883 and is Fully Conformant Under the Provisions of
Paragraph 1.2.1. Low Power Standby and Operating Power
-ICCSB . 100пЃ­A
-ICCOP 20mA at 1MHz Fast Access Time . .120ns Industry Standard Pinout Single 5.0V Supply CMOS/TTL Compatible Inputs Description
The HM-6617/883 is a 16,384-bit fuse link CMOS PROM in
a 2K word by 8-bit/word format with "Three-State" outputs.
The HM-6617/883 utilizes a synchronous design technique.
This includes on-chip address latches and a separate output
enable control which makes this device ideal for applications
utilizing recent generation microprocessors. This design
technique, combined with the Intersil advanced self-aligned
silicon gate CMOS process technology offers ultra-low
standby current. Low ICCSB is ideal for battery applications
or other systems with low power requirements. Separate Output Enable The Intersil NiCr fuse link technology is utilized on this and
other Intersil CMOS PROMs. This gives the user a PROM
with permanent, stable storage characteristics over the full
industrial and military temperature voltage ranges. NiCr fuse
technology combined with the low power characteristics of
CMOS provides an excellent alternative to standard bipolar
PROMs or NMOS EPROMs. Operating Temperature Range -55oC to +125oC All bits are manufactured storing a logical "0" and can be High Output Drive . 12 LSTTL Loads Synchronous Operation On-Chip Address Latches Ordering Information ...
Prices
Packaging
| | |
| --- | --- |
| Package | 24 Ld SBDIP |
| Package Index | D24.3 |
Parametrics
| | |
| --- | --- |
| Qualification Level | QML Class Q (military) |
Moldel Line
Series:
HM-6617-883
(3)
Manufacturer's Classification
Space & Harsh Environment > /883 > Memory
Other Names:
HM66617/883, HM6 6617/883
RadioLocman on the Social Web: