»
Datasheets
»
PROM
Datasheet Intersil 5962-8869002JA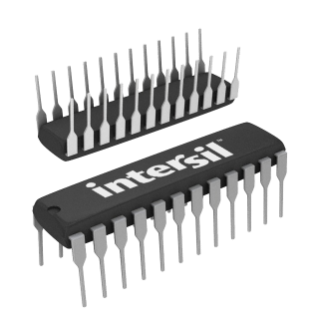 512x8 CMOS PROM
Datasheets
Download » Datasheet

PDF, 447 Kb, Revision: 2004-03-03


HM-6642/883 Datasheet


Docket ↓

DATASHEET
HM-6642/883 FN3013
Rev.2.00
March 2004 512 x 8 CMOS PROM
The HM-6642/883 is a 512 x 8 CMOS NiCr fusible link
Programmable Read Only Memory in the popular 24 pin,
byte wide pinout. Synchronous circuit design techniques
combine with CMOS processing to give this device high
speed performance with very low power dissipation.
On-chip address latches are provided, allowing easy
interfacing with recent generation microprocessors that use
multiplexed address/data bus structures, such as the 8085.
The output enable controls, both active low and active high,
further simplify microprocessor system interfacing by
allowing output data bus control independent of the chip
enable control. The data output latches allow the use of the
HM-6642/883 in high speed pipelined architecture systems,
and also in synchronous logic replacement functions. Features This Circuit is Processed in Accordance to MIL-STD-883
and is Fully Conformant Under the Provisions of
Paragraph 1.2.1. Low Power Standby and Operating Power
-ICCSB . .100ВµA
-ICCOP 20mA at 1MHz Fast Access Time . 120/200ns Wide Operating -55В°C to +125В°C Temperature Range Industry Standard Pinout Single 5.0V Supply Applications for the HM-6642/883 CMOS PROM include low
power hand held microprocessor based instrumentation and ...
Prices
Packaging
| | |
| --- | --- |
| Package | 24 Ld SBDIP |
| Package Index | D24.6 |
Parametrics
| | |
| --- | --- |
| Qualification Level | QML Class Q (military) |
Moldel Line
Series:
HM-6642-883
(3)
Manufacturer's Classification
Space & Harsh Environment > /883 > Memory
Other Names:
59628869002JA, 5962 8869002JA
RadioLocman on the Social Web: