Datasheet Intersil ISL83202IBZT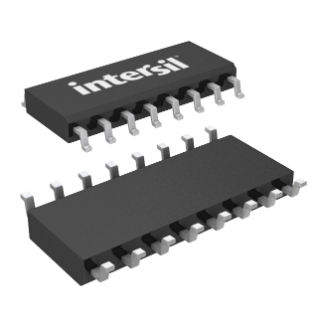 | | |
| --- | --- |
| Manufacturer | Intersil |
| Series | ISL83202 |
| Part Number | ISL83202IBZT |
55V, 1A Peak Current H-Bridge FET Driver
Datasheets
Download » Datasheet

PDF, 566 Kb, Revision: 2017-10-20


ISL83202 Datasheet


Docket ↓

DATASHEET
ISL83202 FN6382
Rev.0.00
December 20, 2006 55V, 1A Peak Current H-Bridge FET Driver
The ISL83202 is a medium-frequency H-Bridge FET driver
capable of 1A (typ) of peak drive current that is designed to
drive high-and low-side N-Channel MOSFETs in mediumvoltage applications. Optimized for PWM motor control and
uninterruptible power supply systems, the ISL83202 enables
simple and flexible bridge-based design. With typical inputto-output propagation delays as low as 25ns and with a userprogrammable dead-time range of 0.1Вµs to 4.5Вµs, the
ISL83202 is ideal for switching frequencies up to 200kHz. Features The dead-time of the ISL83202 is programmable via a single
resistor. The ISL83202's four independent driver control
inputs (ALI, AHI, BLI, and BHI) allow driving of every
possible switch combination except those that would cause
a shoot-through condition. A global disable input, DIS,
overrides input control and causes the ISL83202 to refresh
the bootstrap capacitor when pulled low. Integrated
undervoltage protection and shoot-through protection ensure
reliable system operation. DIS (Disable) Overrides Input Control and Refreshes
Bootstrap Capacitor when Pulled Low The ISL83202 is available in compact 16 Ld SOIC and 16 Ld
PDIP packages and operates over the range of -55В°C to
+125В°C. ISL83202IBZ
(Note) PART
MARKING ...
Prices
Packaging
| | |
| --- | --- |
| Package | 16 Ld SOIC T+R |
| Package Index | M16.15 |
| Peak Temperature | 260°C |
Parametrics
| | |
| --- | --- |
| ChargePump | No |
| Description | 55V, 1A Peak Current H-Bridge FET Driver |
| Fall Time | 9 ns |
| InputLogicLevel | 3.3V/TTL |
| Max Bootstrap Supply Voltage | 70 V |
| Operating Temperature Range | -55 to 125 |
| Peak Pull-down Current | 1 A |
| Peak Pull-up Current | 1 A |
| Qualification Level | Standard |
| Rise Time | 9 ns |
| Turn-Off Prop Delay | 55 ns |
| Turn-On Prop Delay | 75 ns |
| VBIAS (max) | 15 V |
Eco Plan
Moldel Line
Series:
ISL83202
(3)
Manufacturer's Classification
Space & Harsh Environment > Harsh Environment > Half, Full Bridge and Three Phase Drivers
RadioLocman on the Social Web: