Datasheet Intersil 8406701RA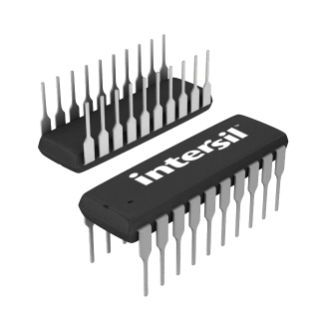 | | |
| --- | --- |
| Manufacturer | Intersil |
| Series | 82C82 |
| Part Number | 8406701RA |
CMOS Octal Latching Bus Driver
Datasheets
Download » Datasheet

PDF, 468 Kb, Revision: 2017-12-05


82C82 Datasheet


Docket ↓

DATASHEET
82C82 FN2975
Rev 2.00
Aug 25, 2015 CMOS Octal Latching Bus Driver Features Description Full Eight-Bit Parallel Latching Buffer The Intersil 82C82 is a high performance CMOS Octal
Latching Buffer manufactured using a self-aligned silicon
gate CMOS process (Scaled SAJI IV). The 82C82 provides
an eight-bit parallel latch/buffer in a 20 pin package. The
active high strobe (STB) input allows transparent transfer of
data and latches data on the negative transition of this
signal. The active low output enable (OE) permits simple
interface to state-of-the-art microprocessor systems. Bipolar 8282 Compatible Three-State Noninverting Outputs Propagation Delay . 35ns Max. Gated Inputs:
-Reduce Operating Power
-Eliminate the Need for Pull-Up Resistors Single 5V Power Supply Low Power Operation . .ICCSB = 10пЃ­A Operating Temperature Ranges
-C82C82 0oC to +70oC
-I82C82 . -40oC to +85oC
-M82C82 . -55oC to +125oC Pinouts DI1 DI0 VCC DO0 2 1 20 19 DI2 3 18 DO1 DI3 4
DI4 5 DI3 4 17 DO2 DI4 5 16 DO3 DI5 6 DI5 6 15 DO4 DI6 7 DI6 7 14 DO5 DI7 8 13 DO6 OE 9 12 DO7 GND 10 11 STB DI7 8 NO LO N R
GE AI
AV LA E
BL OR SU O
PP TRUTH TABLE ED
RT 18 DO1
17 DO2 ...
Prices
Packaging
| | |
| --- | --- |
| Package | 20 Ld CERDIP |
| Package Index | F20.3 |
Parametrics
| | |
| --- | --- |
| Features | Full 8-Bit Parallel Latching Buffer, 82C82 is Bipolar 8282 Compatible, 82C83H Bipolar 8283 Com |
| Qualification Level | QML Class Q (military) |
Moldel Line
Series:
82C82
(2)
Manufacturer's Classification
Space & Harsh Environment > Harsh Environment > Microprocessors and Peripherals
RadioLocman on the Social Web: