»
Datasheets
»
Flip-Flops
Datasheet Intersil CD40174BDMSR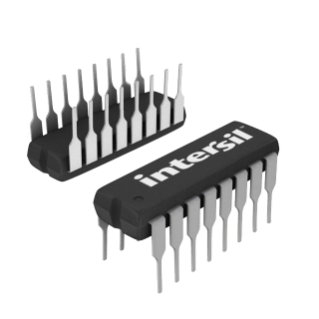 CMOS Hex D-Type Flip-Flop
Datasheets
Download » Datasheet

PDF, 254 Kb, Revision: 2017-12-22


CD40174BMS Datasheet


Docket ↓

DATASHEET
CD40174BMS
Rev X.00
Jan 13, 2017 CMOS Hex �D'-Type Flip-Flop Features Pinout High Voltage Type (20V Rating) CD40174BMS
TOP VIEW 5V, 10V and 15V Parametric Ratings Standardized, Symmetrical Output Characteristics 100% Tested for Quiescent Current at 20V CLEAR 1 16 VDD Q1 2 15 Q6 Maximum Input Current of 1пЃ­A at 18V Over Full Package Temperature Range, 100nA at 18V and +25oC D1 3 14 D6 D2 4 13 D5 Noise Margin (Over full Package Temperature Range):
-1V at VDD = 5V
-2V at VDD = 10V
-2.5V at VDD = 15V Q2 5 12 Q5 D3 6 11 D4 Q3 7 10 Q4
9 CLOCK VSS 8 Meets All Requirements of JEDEC Tentative Standard
No. 13A, "Standard Specifications for Description of
�B' Series CMOS Devices" Applications Functional Diagram Shift Registers Buffer/Storage Registers D1 2 3
F/F1 Q1 Pattern Generators
D2 Description
CD40174BMS consists of six identical �D'-Type flip-flops
having independent DATA inputs. The CLOCK and CLEAR
inputs are common to all six units. Data is transferred to the
Q outputs on the positive going transition of the clock pulse.
All six flip-flops are simultaneously reset by a low level on
the CLEAR input. D3 D4 The CD40174BMS is supplied in these 16 lead outline packages:
Braze Seal DIP H4T Frit Seal DIP H1E Ceramic Flatpack H6W D5 D5
CLOCK
CLEAR 4 5
F/F2 6 7 ...
Prices
Packaging
| | |
| --- | --- |
| Package | 16 Ld SBDIP |
| Package Index | D16.3 |
Parametrics
| | |
| --- | --- |
| Class | V |
| DLA SMD | 5962-96605 |
| Description | CMOS Hex D-Type Flip-Flop |
| High Dose Rate (HDR) krad(Si) | 100 |
| Low Dose Rate (ELDRS) krad(Si) | ELDRS free |
| Operating Temperature Range | -55 to 125 |
| Qualification Level | QML Class V (space) |
| SEL (MeV/mg/cm2) | 75 |
Eco Plan
Moldel Line
Series:
CD40174BMS
(2)
Manufacturer's Classification
Space & Harsh Environment > Rad Hard Digital > RH Flip-Flops
RadioLocman on the Social Web: