Datasheet Mini-Circuits ERA-4+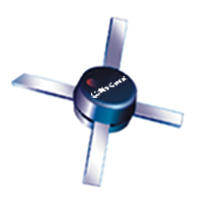 | | |
| --- | --- |
| Manufacturer | Mini-Circuits |
| Series | ERA-4+ |
| Part Number | ERA-4+ |
High-Dynamic-Range MMIC Amplifier, DC to 4 GHz
Datasheets
Download » Datasheet

PDF, 1.1 Mb


Datasheet ERA-4+ Full Version


Docket ↓

Drop-In Monolithic Amplifier DC-4 GHz Product Features DC-4 GHz Single voltage supply Internally matched to 50 ohms Low Performance variation over temperature Transient Protected Aqueous washable Protected By US Patent 6,943,629 ERA-4+
CASE STYLE: VV105 Typical Applications +RoHS Compliant Cellular/ PCS/ 3G Base Station CATV, Cable Modem & DBS Fixed Wireless & WLAN Microwave Radio & Test Equipment The +Suffix identifies RoHS Compliance. See our web site
for RoHS Compliance methodologies and qualifications General Description ERA-4+ (RoHS compliant) is a wideband amplifier offering high dynamic range. It has repeatable performance from lot to lot. It is enclosed in a Micro-X package. ERA-4+ uses Darlington configuration and is
fabricated using InGaP HBT technology. Expected MTTF is 170 years at 85В°C case temperature. simplified schematic and pin description
RF-OUT and DC-IN RF-OUT and DC-IN
3 RF IN
GND 4 GND
2
1
RF IN GROUND Function Pin Number Description RF IN 1 RF input pin. This pin requires the use of an external DC blocking capacitor chosen
for the frequency of operation. RF-OUT and DC-IN 3 RF output and bias pin. DC voltage is present on this pin; therefore a DC blocking
capacitor is necessary for proper operation. An RF choke is needed to feed DC bias
without loss of RF signal due to the bias connection, as shown in "Recommended
Application Circuit". GND 2,4 Connections to ground. Use via holes as shown in "Suggested Layout for PCB
Design" to reduce ground path inductance for best performance. Notes
A. Performance and quality attributes and conditions not expressly stated in this specification document are intended to be excluded and do not form a part of this specification document.
B. Electrical specifications and performance data contained in this specification document are based on Mini-Circuit's applicable established test performance criteria and measurement instructions.
C. The parts covered by this specification document are subject to Mini-Circuits standard limited warranty and terms and conditions (collectively, "Standard Terms"); Purchasers of this part are entitled
to the rights and benefits contained therein. For a full statement of the Standard Terms and the exclusive rights and remedies thereunder, please visit Mini-Circuits' website at www.minicircuits.com/MCLStore/terms.jsp Mini-Circuits ® www.minicircuits.com P.O. Box 350166, Brooklyn, NY 11235-0003 (718) 934-4500 sales@minicircuits.com REV. R
M164585
ERA-4+
171030
Page 1 of 4 ERA-4+ Monolithic InGaP HBT MMIC Amplifier ...
Prices
Status
| | |
| --- | --- |
| Lifecycle Status | Currently not available |
Packaging
Parametrics
| | |
| --- | --- |
| Export Info | ECCN# EAR99 |
| Test Board | TB-431-4+ |
Eco Plan
Other Names:
ERA4+, ERA 4+
RadioLocman on the Social Web: