Datasheet Intersil ISL72813SEH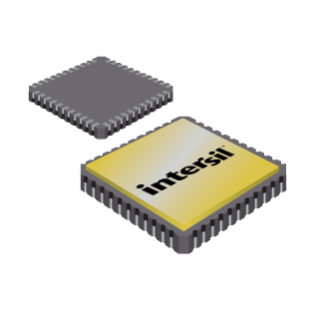 | | |
| --- | --- |
| Manufacturer | Intersil |
| Series | ISL72813SEH |
32-Channel Driver Circuit with an Integrated Decoder
Datasheets
Download » Datasheet

PDF, 594 Kb, Revision: 2017-10-26


ISL72813SEH Datasheet


Docket ↓

DATASHEET
ISL72813SEH FN8884
Rev 1.00
February 20, 2017 32-Channel Driver Circuit with an Integrated Decoder
The ISL72813SEH is a radiation hardened, high-voltage,
high-current, driver circuit fabricated using Intersil's
proprietary PR40 silicon-on-insulator process technology to
mitigate single-event effects. This device integrates 32 driver
circuits that feature high-voltage, common emitter, and
open-collector outputs with a 42V breakdown voltage and a
peak current rating of 600mA.
To further reduce solution size and increase system power
density, the ISL72813SEH integrates a 5-bit to 32-channel
decoder (plus enable pin) as well as level shifting circuitry to
reference the output of the decoder to a negative voltage. This
conveniently allows the user to select 1 of 32 available driver
channels. The inputs to the decoder are TTL/CMOS
compatible, allowing easy interface to CPUs, FPGAs, or
Вµprocessors. Features Electrically screened to SMD 5962-17208 Acceptance tested to 100krad(Si) (HDR) and to 50krad(Si)
(LDR) wafer-by-wafer Integrated 5-bit to 32-channel decoder Integrated level shifting circuit High collector current outputs High voltage outputs Grounded metal lid Full military temperature range operation
-TA = -55В°C to +125В°C
-TJ = -55В°C to +150В°C The ISL72813SEH operates across the military temperature
range from -55В°C to +125В°C and is available in a 44 Ld ...
Prices
Packaging
Parametrics
| | ISL72813SEHL/PROTO | ISL72813SEHVL | ISL72813SEHVX |
| --- | --- | --- | --- |
| | | | |
| Class | V, /PROTO | V, /PROTO | V, /PROTO |
| DLA SMD | 5962-17208 | 5962-17208 | 5962-17208 |
| Description | 32-Channel Driver Circuit with an Integrated Decoder | 32-Channel Driver Circuit with an Integrated Decoder | 32-Channel Driver Circuit with an Integrated Decoder |
| High Dose Rate (HDR) krad(Si) | 100 | 100 | 100 |
| Low Dose Rate (ELDRS) krad(Si) | 50 | 50 | 50 |
| Operating Temperature Range | -55 to 125 | -55 to 125 | -55 to 125 |
| Qualification Level | QML Class V (space) | QML Class V (space) | QML Class V (space) |
| SEL (MeV/mg/cm2) | SEL free | SEL free | SEL free |
Eco Plan
Moldel Line
Series:
ISL72813SEH
(3)
Manufacturer's Classification
Space & Harsh Environment > Rad Hard Power > RH Source Drivers
RadioLocman on the Social Web: