Datasheet Intersil IS1-2981EH-Q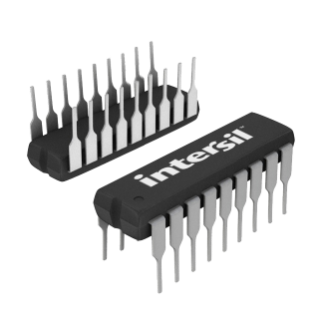 | | |
| --- | --- |
| Manufacturer | Intersil |
| Series | IS-2981EH |
| Part Number | IS1-2981EH-Q |
Radiation Hardened 8-Channel Source Driver
Datasheets
Download » Datasheet

PDF, 195 Kb, Revision: 2017-11-22


IS-2981RH, IS-2981EH Datasheet


Docket ↓

DATASHEET
IS-2981RH, IS-2981EH FN4869
Rev 1.00
Jun 24, 2013 Radiation Hardened 8-Channel Source Driver
The Radiation Hardened IS-2981RH, IS-2981EH are monolithic
devices designed for use in high-side switching applications
that benefit from separate grounds for the logic and loads. The
devices have a 5V to 80V operating supply voltage range and is
capable of sourcing -200mA continuously from each output.
The outputs are controlled by active-high inputs and may be
paralleled to increase the drive current. The output clamp
diodes prevent device damage, when switching inductive
loads.
Constructed with the Intersil bonded wafer, dielectrically
isolated HVTDLM process, these single event latch-up immune
devices have been specifically designed to provide highly
reliable performance in harsh radiation environments. They
are fully guaranteed for 100krad(Si) high dose rate and
50krad(Si) low dose rate total dose performance through
wafer-by-wafer radiation testing, and are production tested
over the full military temperature range.
Specifications for Rad Hard QML devices are controlled by the
Defense Logistics Agency Land and Maritime (DLA). The SMD ...
Prices
Packaging
| | |
| --- | --- |
| Package | 18 Ld SBDIP |
| Package Index | D18.3 |
Parametrics
| | |
| --- | --- |
| Class | V, /PROTO |
| DLA SMD | 5962-00520 |
| Description | Radiation Hardened 8-Channel Source Driver |
| High Dose Rate (HDR) krad(Si) | 100 |
| Low Dose Rate (ELDRS) krad(Si) | 50 |
| Operating Temperature Range | -55 to 125 |
| Qualification Level | QML Class V (space) |
| SEL (MeV/mg/cm2) | SEL free |
Eco Plan
Other Options
Moldel Line
Series:
IS-2981EH
(2)
Manufacturer's Classification
Space & Harsh Environment > Rad Hard Power > RH Source Drivers
Other Names:
IS12981EHQ, IS1 2981EH Q
RadioLocman on the Social Web: