Datasheet Intersil ISL70001ASEHVX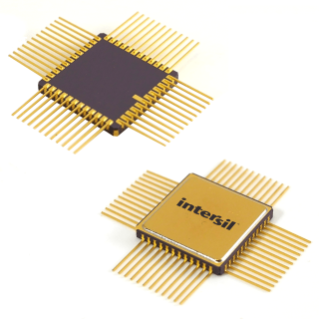 | | |
| --- | --- |
| Manufacturer | Intersil |
| Series | ISL70001ASEH |
| Part Number | ISL70001ASEHVX |
Radiation Hardened and SEE Hardened 6A Synchronous Buck Regulator
Datasheets
Download » Datasheet

PDF, 1.6 Mb, Revision: 2017-11-07


ISL70001ASEH Datasheet


Docket ↓

DATASHEET
ISL70001ASEH FN8365
Rev 2.00
May 20, 2014 Radiation Hardened and SEE Hardened 6A Synchronous Buck Regulator
The ISL70001ASEH is a radiation hardened and SEE
hardened high efficiency monolithic synchronous buck
regulator with integrated MOSFETs. This single chip power
solution operates over an input voltage range of 3V to 5.5V
and provides a tightly regulated output voltage that is
externally adjustable from 0.8V to ~85% of the input voltage.
Output load current capacity is 6A for TJ < +145В°C.
The ISL70001ASEH utilizes peak current-mode control for
excellent output load transient response and features
integrated compensation and switches at a fixed frequency of
1MHz to reduce component size and count. In application
where two POLs are needed, two ISL70001ASEH devices can
be synchronized 180В° out-of-phase to reduce the overall input
RMS ripple current. The internal synchronous power switches
are optimized for high efficiency and good thermal
performance.
The ISL70001ASEH incorporates fault protection for the
regulator. The protection circuits include input undervoltage,
output undervoltage, and output overcurrent. ...
Prices
Parametrics
| | |
| --- | --- |
| Class | V, /PROTO |
| DLA SMD | 5962-09225 |
| Description | Radiation Hardened and SEE Hardened 6A Synchronous Buck Regulator |
| High Dose Rate (HDR) krad(Si) | 100 |
| Low Dose Rate (ELDRS) krad(Si) | 100 |
| Operating Temperature Range | -55 to 125 |
| Qualification Level | QML Class V (space) |
| SEL (MeV/mg/cm2) | 86.4 |
Eco Plan
Moldel Line
Series:
ISL70001ASEH
(5)
Manufacturer's Classification
Space & Harsh Environment > Rad Hard Power > RH Switching Regulators
RadioLocman on the Social Web: