Datasheet Songle Relay SRSB-24VDC-FL-A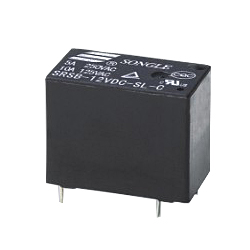 5A/8A/10A Convert Single Group to Open Relay
Datasheets
Download » Datasheet

PDF, 4.0 Mb, File uploaded: Jun 11, 2018




Docket ↓

SRSB Series CONVERT SINGLE GROUP TO OPEN RELAY 5A/8A/10A 1 8 .4 M A Features X .4 M AX US C 10 E167996 16MAX В Miniature volume, PCB usage В Contact rating:5A/8A/10A
В Meet to strengthen the insulation R50056114 standard 4000V pressure CQC
CQC16002150618 Contact Rating Ordering Information
SRSB-12VDC-S L-A
A Contact arrangment L0.45W Contact a rrangment A Contact resistance 100mО©(1A 6VDC) Contact material Silver alloy:AgCdOгЂЃAgSnO2гЂЃAgNi Contact rating 5A/250VAC 8A/250VAC 10A/125VAC Max switching voltage 250VAC Max switching current 10A Coil Power S sealed / F dustproof 5V / 6V / 9V
12V/18V / 24V Construction Max switching power 1250VA Electrical endurance 1x10 ops / 1x10 ops Mechanical endurance 1x10 ops Coil Voltage 5 (frequency: 1800 ops/h) Part number 7 (frequency: 18000 ops/h) Characteristics Power
dissipation B / F Insulation resistance 100MО© (500VDC) Leakage current
1mA Between contacts
and coil 4000VAC 1 minute Between open
contacts 1000VAC 1 minute Operate time(Under nominal voltage) ≤10ms Release time(Under nominal voltage) ≤10ms Humidity 85% RH(20℃) Ambient Temperature
Shock
resistance пј€at 20в"ѓпј‰ Coil Data Insulation system Dielectric
Strength 4 -40в"ѓ~+85в"ѓ Functional 98m/sВІ Destructive 980m/sВІ W 10Hz~55Hz 1.5mm Weight Approx 9g Construction Sealed 05 89 . 3 55 06 75 80 09 50 180 12 37 . 5 320 18 25 720 24 18 . 7 1280 0.45W
(D) Vibration resistance
( Double amplitude) Voltage Current Resistance Pick-up
VDC
mA О©В±10% voltage Drop-out
voltage
nim 75%Max 10%Min Max
allowable 130% Remark:1)All above data is initial value
This product specification only for your reference, we will not notify you if
we do any improvement.We reserve all the right for the final explanation Webпјљwww.songle.com www.songlerelay.com Email:sale@songle.com
Webпјљwww.songle.com www.songlerelay.com ...
Prices
Packaging
Parametrics
Moldel Line
Series:
SRSB (4102)
(12)
Manufacturer's Classification
Household appliance relay
Other Names:
SRSB24VDCFLA, SRSB 24VDC FL A
RadioLocman on the Social Web: