Datasheet Infineon 2ED24427N01F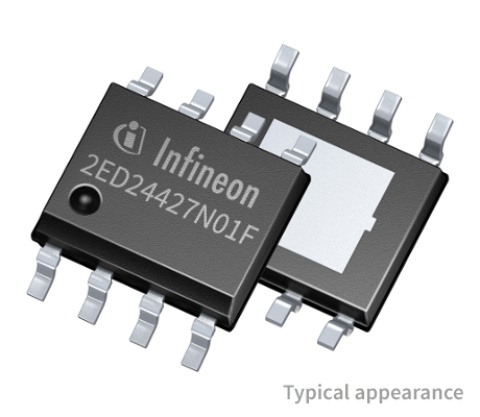 24 V dual-channel low-side gate driver with high current for driving large power switches
Datasheets
Datasheet 2ED24427N01F
PDF
,
1.3 Mb
, Language:
en
, Revision:
02_00
, File uploaded:
Jan 25, 2021
, Pages:
21
10 A dual -channel low-side gate driver IC
Extract from the document
Prices
Detailed Description
EiceDRIVER 24 V dual-channel low-side non-inverting gate driver for MOSFETs or IGBTs with typical 10 A source and sink currents in a DSO-8 package with thermally efficient, exposed power pad. 2ED24427N01F enables higher power and faster switching frequencies in multiple applications with a reduced PCB footprint and increased reliability by simplifying high power density system design.
The 2ED24427N01F is a low-voltage, power MOSFET and IGBT non-inverting gate driver.
Proprietary latch immune CMOS technologies enable ruggedized monolithic construction. The logic input is compatible with standard CMOS or LSTTL output. The output driver features a current buffer stage. The output drivers feature a high pulse current buffer stage designed for minimum driver cross-conduction. Propagation delays between two channels are matched. Internal VCC circuitry provides under voltage lockout protection that holds output low until VCC supply voltage is within operating range.
Status
Model Line
Series: 2ED24427N01F (1)
Manufacturer's Classification