Datasheet Texas Instruments LM4780TABD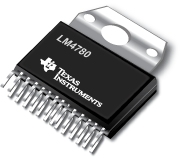 Overture Audio Power Amplifier Series Stereo 60W, Mono 120W Audio Power Amplifier with Mute
Datasheets
Datasheet LM4780, LM4780TABD
PDF
,
1.4 Mb
, Revision:
B
, File published:
Apr 4, 2013
, Pages:
31
Overture Audio Power Amplifier Series Stereo 60W, Mono 120W Audio Power Amplifier with Mute
Extract from the document
Prices
Application Notes
Guidelines for Measuring Audio Power Amplifier Performance

PDF

,

765 Kb

, File published:

Oct 30, 2001

This application note provides guidelines for measuring the date sheet parameters of Texas Instruments audio power amplifiers (APAs) using prefabricated evaluation modules (EVMs). The primary equipment used for the measurements consists of the System Two audio measurement system by Audio Precision , a digital multimeter (DMM), and a dc power supply.

AN-1849 An Audio Amplifier Power Supply Design (Rev. B)

PDF

,

1.9 Mb

, Revision:

B

, File published:

May 1, 2013

This application report provides design information for a power supply for use with our newest offering of high-performance, ultra high-fidelity audio amplifier input stage ICs.
Manufacturer's Classification
Semiconductors > Audio > High-Power Audio Amplifiers (>50W) > Analog Input Class-D