Datasheet CIT Relay & Switch J104D
| | |
| --- | --- |
| Manufacturer | CIT Relay & Switch |
| Series | J104D |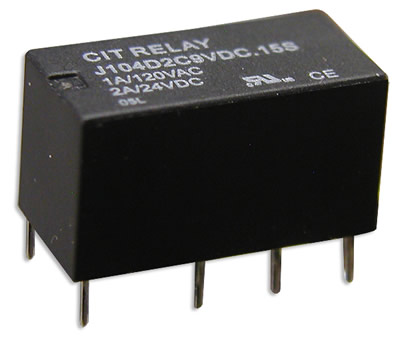 Datasheets
Datasheet J104D
PDF
,
320 Kb
, Language:
en
, File uploaded:
Jun 20, 2023
, Pages:
2
UL Approved Relay
Extract from the document
Prices
Detailed Description
The J104D Series relay offers bifurcated contacts for high reliability with high sensitivity.
Contacts rated at 2A. Conforming to FCC Part 68, this PC pin mounted relay offers 2C contact arrangement with coil voltage ranging from 3VDC up to 48VDC with coil power options of .15W, .20W, .36W or .45W. Dimensions are 20.4 x 10.5 x 11.0mm. UL Agency approval is E197851.
Model Line