Datasheet G5SB-14 5DC - Omron RELAY, PCB, 5 V DC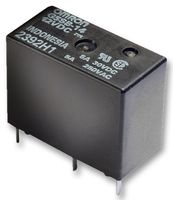 Part Number: G5SB-14 5DC
Detailed Description
Manufacturer: Omron
Description: RELAY, PCB, 5 V DC

Download Data Sheet
Docket:
PCB Relay
G5SB
Compact Single-pole Relay for Switching 5 A (Normally Open Contact), Fan Control of Air Conditioners, and Heating Control of Small Appliances.
· Environment-friendly, Pb-free. · Compact SPDT Relay with high insulation. · Incorporates a normally open contact that switches 5 A max. · Ensures a withstand impulse voltage of 8,000 V between the coil and contacts. · Conforms to UL and CSA.
· UL508 · CSA C22.2 (No.14) · VDE approval is in progress. Note: The G5S-1 will be discontinued at the end of March 2004. Please change to the G5SB (Environment-friendly Relay).
Specifications:
Relay Type: Power
Coil Voltage VDC Nom: 5 V
Contact Current Max: 5 A
Contact Voltage AC Nom: 250 V
Contact Voltage DC Nom: 30 V
Coil Resistance: 63 Ohm
Contact Configuration: SPDT
Coil Type: DC Coil
Coil Current: 80 mA
Nom Operating Power: 400 mW
Relay Mounting: PC Board
External Length / Height: 15.8 mm
External Width: 20.3 mm
External Depth: 10.3 mm
Contact Current AC Max: 5 A
Contact Current DC Max: 5 A
Contact Voltage AC Max: 250 V
Contact Voltage DC Max: 30 V
Mounting Type: PCB
No. of Poles: 1
Operating Temperature Max: 70°C
Series: G5SB
Temperature Operating Min: -40°C
Approval Bodies: CSA
Approval Category: UL Recognised
Contact Current Max: 5 A
Contact Current Min: 10 mA
Contact Current Rating: 3 A
Contact Material: Ag alloy
Contact Resistance: 100 MOhm
Current Rating: 80 mA
DC Coil Power: 400 mW
Dielectric Voltage Coil to Contact: 4000 V AC
Dielectric Voltage Contact to Contact: 1000 V AC
Insulation Resistance: 1000 MOhm
Mechanical Life: 5,000,000 operations
RoHS: Yes
Other Names:
G5SB14 5DC, G5SB 14 5DC